Yesterday, it was dry and beautiful, and Molly and Aurel invited us over to dinner with their various visiting families. I bought perfect plums at the market with the intention of making something sweet and plummy for desert. The first part of the afternoon was spent just admiring the plums.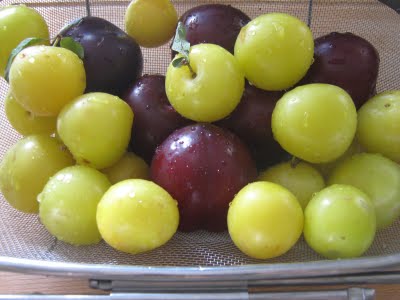 In the end I decided on a plum upside-down cake, and I worked diligently on it, using half my plums and exactly one pound of butter.
I'm not sure what happened to that cake. Maybe the recipe wasn't forgiving of my wish to double it, or maybe I just didn't have my butter alchemy hat on. The cake looked like it was going to be lovely. In fact, I even photographed it, sure that you would love to make it too.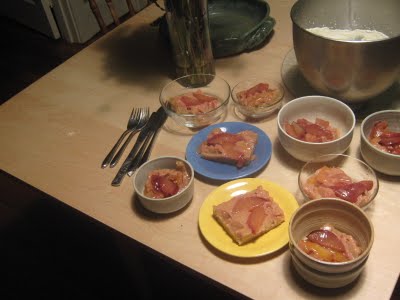 But just to dissuade you from trying, I'm not even going to give you the recipe.
This was a truly lovely dinner party. It was a blue and sweatshirted evening, and everyone looked lovely in the smoke of the grill. Rosie stole my camera and took all of the pictures.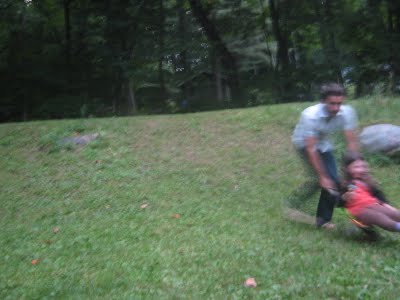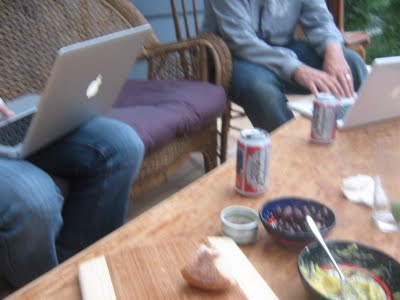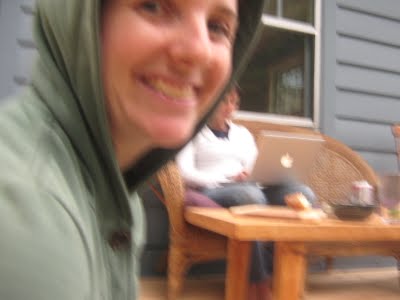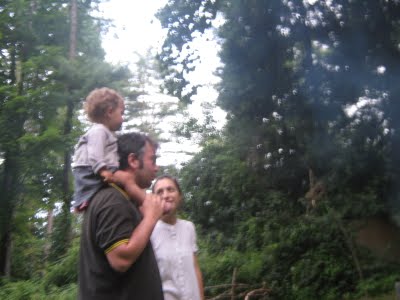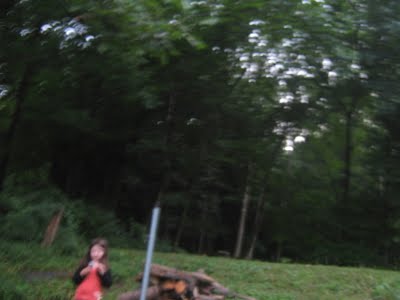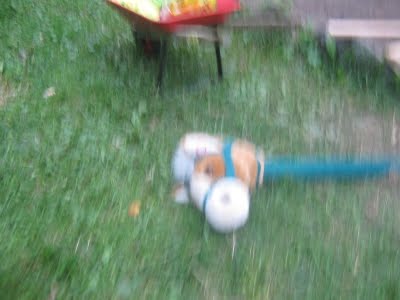 I think that she may have a future in this. She even got that blurry, evening, "we're young and we're being photographed by Gourmet magazine tonight- check out our eleven course meal followed by homemade ice cream sandwiches" look.
But we did not have homemade ice cream sandwiches for dessert. We had plum upside-down cake with a dense hard cake bottom that sat a bit like a rock in your tummy. The plum part was fabulous, and thank god I made whipped cream.
It was a lovely night though. We finally dragged the kids home at nine, and they fell asleep before we could sing "tender shepherd".
This morning Rosie woke up with a fever. It was humid with a sky only inches above the top of the house, threatening to rain without ever following through. It was muggy and cold at the same time. All of this was clear in the first moments of the day. So Joey took both the sick girl and the healthy girl to the couch and read the entire Children's treasury to them. I'm talking Miss Rumphius, Pig Pig, Madeline, the first chapter of Superfudge- this is a pretty complete treasury. And I slept another whole twenty minutes by myself, got up, and faced the second half of the plums, ready to begin again.
I've been thinking about coffee cake lately, and wanting to work on a whole grain maple syrup version that is not special and decadent, but is just a good breakfast when I have too many plums. (or add you're overabundant fruit here). This one came out great- yummy and moist, and I didn't feel sick or sugared after breakfast. In fact, I kept eating through this whole day that I never left the house. Yes, it was that kind of Sunday, and it was a beautiful thing, all in all. The sick kid dozed, the healthy kid sewed and took care of the sick kid, and the husband and I cleaned out the room that is filled with junk. Maybe the coffee cake had some magic in it. Try it out and let me know if you think so.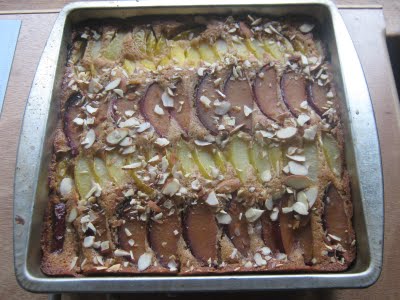 Plum Coffee Cake
very loosely adapted from The Joy of Cooking
2 cups sifted spelt flour
3/4 tsp baking powder
3/4 tsp baking soda
1/2 tsp salt
1/2 tsp nutmeg
1 tsp cinammon
1/2 cup canola oil
1 beaten egg
3/4 cup whole milk yogurt
1/3-1/2 cup maple syrup, depending on how sweet you like it
4-6 plums, pitted and cut into slices
1/2 cup sliced almonds
Preheat the oven to 350 degrees. Butter an 8×8 square baking pan. Whisk together the flour, baking powder, baking soda, salt, nutmeg, and cinnamon in a mixing bowl.
In another bowl, combine the oil, egg, yogurt and maple syrup. Pour this mixture into the flour mixture, stirring rapidly until blended. The mixture can be a bit lumpy. Pour into the greased pan and arrange the plum slices on top, pressing them slightly into the batter. Sprinkle the almonds over the batter and plums. Bake for 40-50 minutes, or until a knife comes out clean.