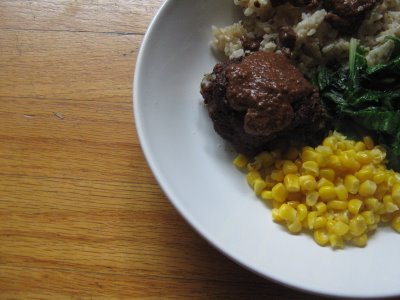 I have a funny history when it comes to cutting up chickens. It was never something that I learned how to do, but then when I got all preachy and dogmatic about only buying local chickens, it was something that I had to learn. I have this really great friend Ron, and although he's a raw foodist, he is more talented at preparing and cooking meat than anyone I know. A few years ago, he took pity on me and we stood in his beautiful farmhouse kitchen, cutting up multiple chickens. Then we made Patricia Wells' Vinegar Chicken, which is a phenomenal thing. I felt very good about myself for acquiring this useful and hardcore skill, and for the next few months I cut up chickens serenely and full of self love.
Then something changed. I took a break, and when I came back to cut up a chicken, the logic wasn't there for me anymore. I hacked at the thing, there were ribs everywhere, and I cut myself on the butchered skeleton of the poor thing. Cutting yourself on a raw chicken is really gross, and also a bit traumatic, and for the next few years, we had only roast, whole chicken.
This week, I felt it was time to try my hand at the knife again. I claim to be all into cooking and everything, and what kind of cook won't cut up a chicken? As further motivation, I've been reading David Lebovitz's new book, and he entranced me with an easy quick mole that he swears tastes like the real thing.
Of course, in my usual style, I decide to accomplish this task at the very wrong time. I've been at work all day, and come home at six to pass like a ship in the night past Joey, who is off to a staff meeting for his upcoming art camp. The kids are finishing their omelettes, and they are totally crazy. I mean, whirly, loopy crazy. They're jumping up and down, making fart jokes, walking down the hallway on their hands- some other force has possessed them.
"Girls! Put on your pajamas!"
"No! Mom, Pom, loo lee la! Ha!" (Maniacal laughter from both)
"Okay, then keep a lid on it until I tell you I've cut this chicken!"
"Huh?" (This has peaked their interest)
"Don't ask questions! Out of my kitchen!"
I face my adversary, knife in hand.
"Ew! I see blood!"
"Out of my kitchen!" Perhaps the knife raised above my head finally gets my point across.
I start to go for it, and it starts out pretty well. Cut the skin by the thigh, break the joint, remove the leg. Same on the other side. Pretty similar with the wings, but whoops, I cup into the breast by mistake. I start to feel a little worried. And then around the back, I just get lost. Before I know it, I'm in that old nightmare only it's really happening, and there are chicken ribs everywhere. And what am I supposed to do with the neck? And all of the organs attached to the back? It's a mess. And Rosie has snuck back into the kitchen and has perched herself on top of a stool so that she can give Sadie a play by play.
"Bones! Ew! and bloody! and raw! and ew!"
"This is an animal that we are thankful for and we will respect," I say. "And it's delicious."
"Ew!"
I'm agreeing with her at this point, although I won't admit it. The chicken has won, and I'm not feeling too excited about eating it. And I'm also afraid that I might cut my mouth on the hack job that I did of its ribcage.
Good thing that I am slathering it in chocolate chili sauce. We just might come through okay.
Mole au Poulet
from David Lebovitz's The Sweet Life in Paris
1 chicken, cut into 8 pieces, or 4 legs and 4 thighs
1 T coarse salt
2 bay leaves
1/2 batch, about 2 cups Chocolate Mole (see below)
a few toasted sesame seeds
Put the chicken in a large pot and cover with water. Add salt and bay leaves. Cover and bring to a boil; then reduce the heat and simmer for twenty minutes. Turn off the heat and let it rest for twenty minutes.
Transfer the chicken to a platter. Reserve the cooking liquid. When cool enough to handle, remove and discard the skin.
Preheat the oven to 350 degrees.
Arrange the chicken pieces in a baking dish just big enough to hold them all.
Add a bit of the cooking liquid to the mole. The sauce should be the consistency of runny chocolate pudding. Discard the rest of the liquid or use it in place of water to make rice.
Spoon the mole over the chicken and bake for 30 to 40 minutes.
Sprinkle the top with sesame seeds and serve.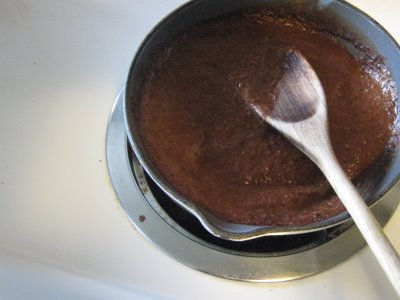 Mole au Chocolate
(from David Lebovitz again)
If you can, make this at least a day before you plan to use it. I found that the flavor was infinitely better the second day. This also freezes well.
10 dried ancho or poblano chiles
3/4 cup raisins
3 ounces unsweetened chocolate, chopped
1 1/4 cups water or chicken stock
1 T canola oil
1 large onion, peeled and chopped
3 garlic cloves, peeled and thinly sliced
3 T sesame seeds
3/4 cup sliced almonds, toasted
3 tomatoes, peeled seeded and chopped, or 1 1/2 cups canned tomatoes and their juice
1/2 tsp cinnamon
1/2 tsp ground cloves
1/2 tsp dried oregano
1/2 tsp ground cumin
1/2 tsp ground coriander
1/2 tsp ground anise seeds
1 1/2 tsp coarse salt
freshly ground black pepper
1 tsp chile powder
Remove the stems from the chiles. Slice them in half lengthwise and scrape out most of the seeds. Put the chiles in a nonreactive pot, cover with water, set a small plate on top to keep the chiles submerged, and simmer for 10 minutes until tender. Remove from heat and let stand until cool.
Put the raisins and chocolate in a blender. Heat the water or stock, and then pour it in the blender and let stand for a few minutes to soften the chocolate.
In a skillet, heat the oil, then saute the onion until limp and transluscent, about 8 minutes. Add the garlic and cook for a few more minutes, stirring frequently.
Drain the chiles and add them to the blender along with the onion and garlic, sesame seeds, almonds, tomatoes, and all the spices. Taste, and add more chile powder and salt if it needs it.