It's summery today.
The pine pollen is making the air thick and yellow. I was locked in the house all day because every time I went outside, snot would pour out of my nose with such ferocity that I'd lose all my focus. So I had a nice summery day inside. And then everyone came home and I tried going outside again. It was a success.
Well pretty much a success. The bread pudding was fantastic. Our dear friends are home from so far away, and our bellies are happy. Between you and me, though, I'm a little grumpy for no reason.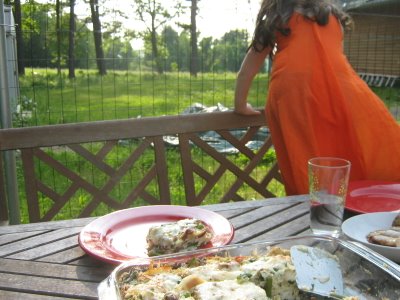 Life is too short for a mood like this, I think. I'll ride it out, though, brooding over here with my computer and my hanky. And I am definitely cheered by the thought of leftovers for lunch tomorrow.
Asparagus Sausage Bread Pudding
adapted from Deborah Madison, Local Flavors
Deborah Madison's recipe is an Asparagus and Wild Mushroom Bread Pudding. You can do that too if you like, just take out the sausage and substitute chanterelles or morels, chopped and sauteed in butter with shallots.
1 head green garlic or regular garlic
3 cups milk
1 1 lb loaf of good quality stale white bread, cut into thick slices
1 onion, diced
1 lb good quality ground pork sausage
1 lb asparagus, preferably thick, peeled
sea salt and freshly ground pepper
3 T butter
4 large eggs
1/3 cup chopped flat leaf parsley
3 T chopped tarragon
2 cups grated Gruyere cheese
1. Preheat the oven to 350 degrees. Lightly butter a 2 liter casserole dish. Coarsely chop the garlic, add it to the milk, and bring to a boil. Turn it off and set it aside to steep.
2. Break the bread into chunks, but it in a large dish, and strain the milk over it. Let it sit while you prepare the rest of the ingredients, turning the bread in the milk every so often.
3. Melt half the butter in a heavy frying pan. Add the onion, and cook until shiny and translucent. Add the sausage, and cook until no longer pink, stirring frequently. Do not brown the meat.
4. Slice the asparagus into 2 inch pieces, then soak in cold water for a few minutes. Fill a skillet with water and, when it boils, add salt and the asparagus. Simmer until bright green and partially tender, about three minutes. Drain, then rinse with cold water.
5. Break the eggs into a large bowl and beat them until smooth. Add the herbs, 1 tsp salt, and plenty of pepper. By now the bread should have soaked up most of the milk. Add the bread and any milk that is left to the bowl, along with the asparagus and sausage and any of the juices. Add two thirds of the cheese and toss well.
6. Pour the mixture into the prepared dish, even it out, and dot with the remaining butter. Scatter the remaining cheese over the top and bake until fluffy and golden, about 45 minutes. Serve warm.