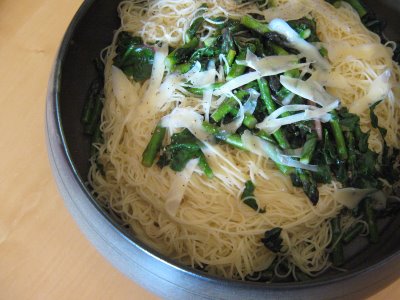 Joey and I went to New York this weekend. Yes again! I know, when I say it, I think it too. Two weekends away in one year? How is it possible?
Well, I've got some swell parents, and they have another child (yes that would be my sister) who likes to dress the girls like little dolls when they stay for the weekend, and I think that it keeps everyone happy and entertained.
We went down to the city for Book Expo America, the inferno of publishing conferences. I used to work for a very gracious international rights agent who gets Joey and I passes every time BEA is in New York. It's a pretty guaranteed migraine for me, but Joey would rather be talking up kids' book authors at BEA than anything else in the world (well mostly) and we go so he can get his yayas. We walk away with many signed copies of books we will most likely never read and random shwag like odd little notebooks and inappropriate stickers for the girls. I got to see what's coming out in cookbooks and talk up those folks as well. "Yes. I write about food." I am avoiding the word blog. "On the internet." There were some pretty exciting things coming out from Ten Speed Press and Chronicle, and a table with a Hare Krishna cookbook where they were trying to draw people to them with a big plate full of ladus. Yeah, well I can tell you, no matter what the Hare Krishnas tell you, chickpea flour and sugar do not a delectable sweet make.
The undisputible highlight of the trip was dinner at Al di la in Brooklyn. I'd been wanting to get over there for a while, and it was definitely the right time.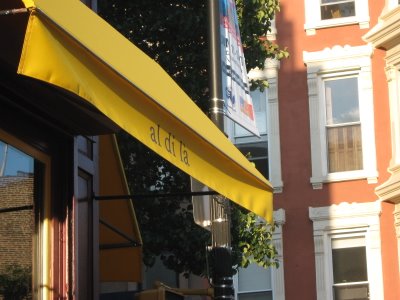 What can I say about our dinner? Let me give you the dream sequence version. Stunning, Amelie-esque servers, coming to the door to meet you as if they were welcoming you and just you in their very own home. Cold white wine and wrinkly black olives, lots of asparagus, beautiful shoes under every table. More wine. The truly phenomenal Jess and Peter so obligingly joining us even though she's a vegan and had to have two salads. More wine. Swiss Chard stem gnocchi, greener than anything you've ever seen. Lots of asparagus. Wine. Olive oil. Lamb chops, but I don't even remember much by that point. And the homemade chocolate ice cream in a tall glass surrounded by whipped cream. Oh I remember that part.
We really eat out once every few years and it's an emotional experience to feel like we're doing it right. I think eating a meal like that can turn you inside out in a good way- it's like backpacking in Europe when you're eighteen or getting stuck outide in a lightning storm when it starts to hail. I like it. I mean I really like it, but I don't know how often I can experience it without getting desensitized, which would be sad, I think.
And today I'm a little raw from the whole thing, and on our way back, we had the good fortune to find some really beautiful asparagus. The woman who sold it to me said, "I'm so glad you're buying this. It's the end of the season. So sad." I almost started crying right there. And I came home to my girls who were wearing matching clothes and had their faces painted. And Sadie couldn't stop talking about all the things that they had done. I kissed them, gave them their signed books and inappropriate stickers, and moving slowly, washed and chopped the asparagus.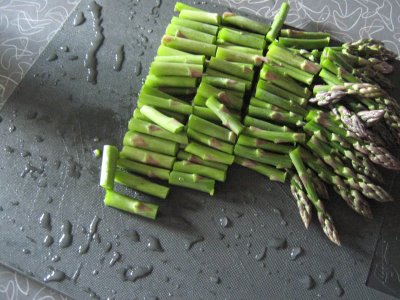 I went out to the garden, looked at everything that had grown in the last twenty four hours, and got to thinning some greens. I'm glad I don't live in New York. I am, however, still thinking about that glass of ice cream.
Spring Pasta
1 lb cappelini
1 lb asparagus, chopped into bite sized pieces
juice of 1/2 lemon
as many baby greens as you can find, or thin out of the garden- spinach, tat soi, swiss chard, to name a few, roughly chopped
several sprigs of flat leaf parsley
4 cloves garlic, minced
olive oil
coarsely ground pepper
parmesan, grated in long strands with a vegetable peeler
Start the water to boil. Generously add salt to the water. In the mean time, coat the bottom of a sautee pan with olive oil. Add the garlic when the oil is hot and stir it until it is just starting to brown. Add the asparagus and continue to stir for a minute or so. Add the greens, parsley and lemon juice, stir until the greens are wilted. Remove from heat. By this point, your water might be boiling- add the pasta along with a couple of glugs of olive oil and turn the heat down a notch. Keep your eye on the pasta- it cooks fast. When it tastes done, drain, throw a quick splash of cold water on it, and transfer to a serving bowl. Add another glug of olive oil to the past and mix with your hands so as not to break the pasta. Put the greens on top. Make sure you don't leave any of the lemon juice or olive oil in the pan- it should all go in the bowl. Top with parmesan shavings and fresh pepper.