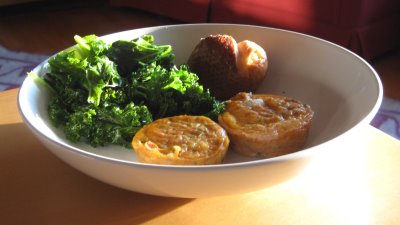 Well, it's been a bit of a week, and I can't say I've quite met the challenge head on. Maybe it's that the garden is picking up, maybe it's the other ninety-three things I've foolishly committed myself too, but I'm feeling a bit weepy. My copy of Molly Wizenberg's book finally arrived at the library (well mine for a few weeks anyway) and one my way home I closed my eyes, opened the book, and pointed, hoping I might find something exciting for dinner. And I did. Although these are, in essence, tuna muffins, don't be turned off, and just continue to call them by their French title. I didn't have any creme fraiche in my fridge (fraiche out! oh, sorry , I'm sorry, I'm really sorry! I won't ever joke again), I used some heavy cream mixed with buttermilk, or I'm sure that sour cream would do in a pinch. I also used cheddar cheese- that's all I had- but I'm posting the original recipe here because I trust that Molly's really got it right.
Bouchons au Thon
from Molly Wizenberg's A Homemade Life
1 6 oz. can of tuna in water (preferably chunk light), drained
3 Tbs tomato paste
1/3 cup creme fraiche
3 large eggs
1 cup finely grated gruyère cheese
Salt
Pepper
2 Tbs finely chopped Italian (flat-leaf) parsley
¼ cup minced onion
Preheat the oven to 325 degrees Fahrenheit, and spray 8 wells of a muffin tin with cooking spray.
In a medium bowl, break up the tuna with a fork, smashing it to a rough paste. Add the tomato paste, crème fraîche, eggs, gruyère, a good pinch of salt, Italian parsley, and onion, and mix well. The batter should be relatively smooth.
Spoon the batter evenly into 8 wells of the muffin tin, and bake for 20-25 minutes, until set and golden around the edges. [If you choose to use a 7-inch mold as mentioned above, the baking time will be longer; bake until the batter looks set and does not jiggle.]
Serves 4 as a light meal with side dishes.