Have you heard of this thing called a galette? I know that it is old news to some, but this is pretty new to me. A galette is basically a rustic tart, and you can put anything in it. I mean it, the world is your oyster. Make a pie crust, roll it out. Put stuff on it, fold the crust over, and bake. And impress. And wow. And enjoy.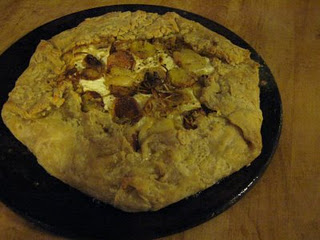 This little beauty has roasted garlic, onions, potatoes and farmers cheese, but really once you get the format, go wild. Your kids will call it pizza, but you will have the joy of saying that you made galette.
The Dough (use what you like, but this specific pie crust alchemy is Deborah Madison's Galette Dough):
2 c flour
1/2 tsp salt
12 T cold butter, cut into pieces
1/3-1/2 c ice water
Combine the flour and salt. With two knives or a pastry blender, cut in half of the butter till you get a nice, crumbly consistency. Stir in the rest of the small butter chunks. Add the ice water a little bit at a time, tossing with your fingers or a fork to stop adding water the moment the dough holds together. Gather the dough into a ball and wrap in wax paper. Refridgerate for at least an hour.
For the Filling:
1 head of garlic, outside skins removed
1 large onion sliced
2-3 potatoes, peeled and sliced
8 oz soft cheese such as farmer's or chevre
salt and pepper
olive oil
Preheat the oven to 425 degrees.
Roast the garlic:
Take of the outer skin. Wrap in aluminum foil with the top open. Pour olive oil over the garlic.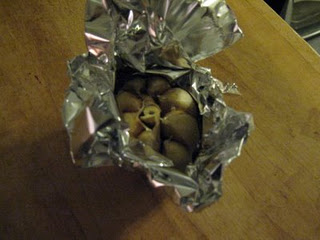 Put into a small oven proof dish and roast until it gets soft and starts to explode a bit, about 30 minutes. In the mean time, toss the potatoes and onions in olive oil, salt and pepper, and spread on a baking sheet and roast until they start to brown, about 15 to 20 minutes.
Take your dough out of the fridge and roll it out. Spread the cheese on the dough, leaving a few inches on the edge. Layer the roasted potatoes, onions, and smooshed garlic cloves that you have squeezed out of their skins on top of the cheese. Sprinkle with some good olive oil.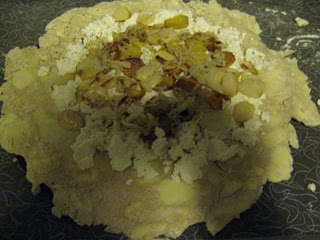 Now here is the fun part. Fold the dough over the filling, like this: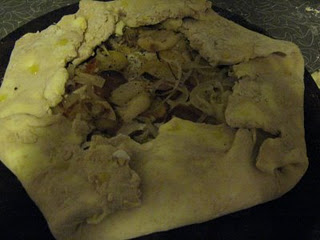 Lower the oven to 400 degrees, put your galette on a pizza stone or baking sheet and bake for 30-40 minutes, or until your crust goes golden.
Let it cool for a few minutes before you cut it, then enjoy. De-lish….