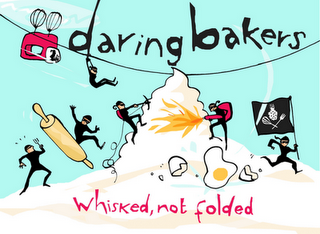 OK, I am not a yule log making kind of girl. I am not ashamed of this. Sweet things that take many days to mold and create, that require caramelizing sugar seventeen times- not my thing. Don't get me wrong, I'm all for eating these sorts of creations. I just don't usually envision myself making them.
Which is why this month's Daring Bakers challenge was so thrilling. After all, this is why I signed on to be a daring baker in the first place, right?
So I eagerly read everyone hints and suggestions, ingesting details about gelatine issues and freezing/melting crises. And of course, I waited until the last minute to make it.
So, yesterday, after days of note taking and repeated ingredients lists, after many trips to various locations for chocolate products, I began my yule log adventure. And while there were no rodent zombies around like last month, I've got to say that this was definitely a day to remember.
Yesterday, that is. Let's get right to it then.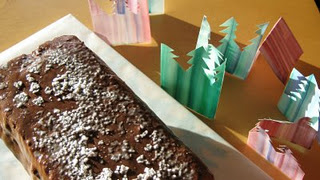 This month's challenge is brought to us by the adventurous Hilda from Saffron and Blueberry and Marion from Il en Faut Peu Pour Etre Heureux.
They have chosen a French Yule Log by Flore from Florilege Gourmand.
This recipe is really, really long. It has many different options for every layer, and frankly the thing made my head spin for a whole month. So I'm going to give you the recipe for the versions that I made, and the whole shebang of the recipe is posted on Hilda's blog, if you'd like to see the scope of it and really weigh all of your options. I went traditional across the board with the exception of the creme brulee insert, which I infused with lavender instead of vanilla. And I did this not because I am obnoxiously crazy about lavender (which I may be), but because in all my travels around the high end locations of Berkshire County, I could not find a single vanilla bean. So there you have it.
There are six elements to this yule log. I will describe them in the order that I made them. The whole process took me twelve hours of doing it at the same time as forty two other things, plus a few more hours today of anxiety and possible heartache.
Lavender Crème Brulée Insert
Preparation time: 15mn + 1h infusing + 1h baking
Equipment: Small saucepan, mixing bowl, baking mold, wax paper
Ingredients:
1/2 cup (115g) heavy cream (35% fat content)
½ cup (115g) whole milk
4 medium-sized (72g) egg yolks
0.75 oz (2 Tbsp / 25g) granulated sugar
2 T lavender flowers
1. Heat the milk, cream, and lavender to just boiling. Remove from the stove and let the lavender infuse for about 1 hour.
2. Whisk together the sugar and egg yolks (but do not beat until white).
3. Pour the lavender-infused milk over the sugar/yolk mixture. Mix well.
4. Wipe with a very wet cloth and then cover your baking mold (whatever shape is going to fit on the inside of your Yule log/cake) with parchment paper. Pour the cream into the mold and bake at 210°F (100°C) for about 1 hour or until firm on the edges and slightly wobbly in the center. A water bath is a good idea here. Note: Although the recipe says one hour, it took mine almost three to set!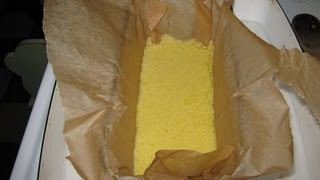 5. Let cool and put in the freezer for at least 1 hour to firm up and facilitate the final assembly.
The next step is the Praline Feuillete. It's pretty straight forward except for the fact that the ingredients are totally impossible to find. Many daring bakers made their own lace crepes or substituted with rice crispies, but I had a faint memory of seeing gavottes some time in my long history, and I figured it out- Harney and Sons tea shop! So I of course had to bundle my family into the car, have a scones and jam break: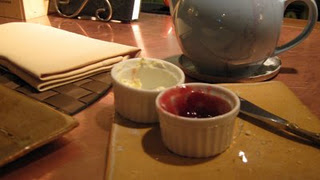 and shell out $7.50 for these really amazing little french crunchy things that they give out with your bill at the tea shop.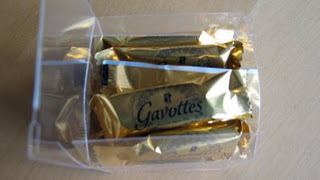 Although this is not what is called for in the recipe, these particular gavottes were chocolate coated. I wasn't sure how that what go, but I figured with all of this chocolate, a little extra would be fine.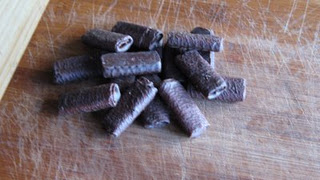 I know, $7.50 for this. Although this is not my way, I have no regrets on this one. If you can find these little beauties, buy them, buy them right away. Eat them before a recipe compells you to crush them.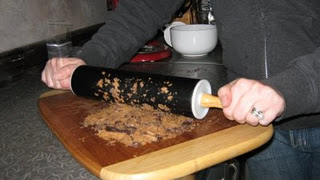 I also couldn't find any praline. This was the advice offered to me by Tartelette:
"For easy praline: 1/2 cup sugar brought to a caramel with 2 Tb water and poured over 1/2 cup of nuts. Chop – break – hammer until fine".
I used almonds and this worked really well, and was very satisfying to make, as my kids have been on vacation from school for a week and a half and hitting anything inanimate with a hammer is a good way to prevent myself from hollering at them.
Ingredients for the Praline Feuillete:
3.5 oz (100g) milk chocolate
1 2/3 Tbsp (25g) butter
2 Tbsp (1 oz / 30g) praline
2.1oz (60g) lace crepes(gavottes) or rice krispies or corn flakes or Special K
1. Melt the chocolate and butter in a double boiler.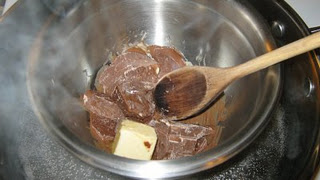 2. Add the praline and the coarsely crushed lace crepes. Mix quickly to thoroughly coat with the chocolate.
3. Spread between two sheets of wax paper to a size slightly larger than your desired shape. Refrigerate until hard.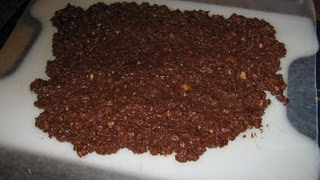 Give the spoon to your dishwasher as payment for all his hard work.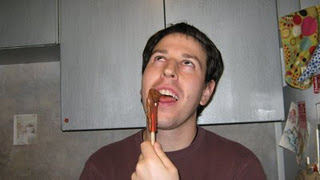 The next step is Dark Chocolate Mousse. Next time (yeah right), I'll make double the mousse, because I really didn't have enough in the end.
Equipment: stand or hand mixer with whisk attachment, thermometer, double boiler or equivalent, spatula
Note: You will see that a Pate a Bombe is mentioned in this recipe. A Pate a Bombe is a term used for egg yolks beaten with a sugar syrup, then aerated. It is the base used for many mousse and buttercream recipes. It makes mousses and buttercreams more stable, particularly if they are to be frozen, so that they do not melt as quickly or collapse under the weight of heavier items such as the crème brulee insert.
Ingredients:
2.5 sheets gelatin or 5g / 1 + 1/4 tsp powdered gelatin
1.5 oz (3 Tbsp / 40g) granulated sugar
1 ½ tsp (10g) glucose or thick corn syrup (I used honey… I tried to make my own glucose syrup, and this is what happened: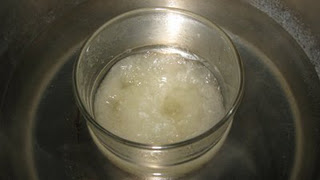 That sugar's never coming out. Oh, man did we try. I had to throw away my favorite little glass container.
Back to the ingredients….
0.5 oz (15g) water
50g egg yolks (about 3 medium)
6.2 oz (175g) dark chocolate, coarsely chopped
1.5 cups (350g) heavy cream (35% fat content)
1. Soften the gelatin in cold water. (If using powdered gelatin, follow the directions on the package.)
2. Make a Pate a Bombe: Beat the egg yolks until very light in colour (approximately 5 minutes until almost white).
2a. Cook the sugar, glucose syrup and water on medium heat for approximately 3 minutes (if you have a candy thermometer, the mixture should reach 244°F (118°C). If you do not have a candy thermometer, test the sugar temperature by dipping the tip of a knife into the syrup then into a bowl of ice water, if it forms a soft ball in the water then you have reached the correct temperature.
2b. Add the sugar syrup to the beaten yolks carefully by pouring it into the mixture in a thin stream while continuing to beat the yolks. You can do this by hand but it's easier to do this with an electric mixer.
2c. Continue beating until cool (approximately 5 minutes). The batter should become thick and foamy.
3. In a double boiler or equivalent, heat 2 tablespoons (30g) of cream to boiling. Add the chopped chocolate and stir until melted and smooth.
4. Whip the remainder of the cream until stiff.
5. Pour the melted chocolate over the softened gelatin, mixing well. Let the gelatin and chocolate cool slightly and then stir in ½ cup (100g) of WHIPPED cream to temper. Add the Pate a Bombe.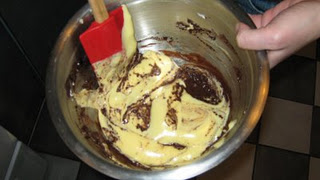 6. Add in the rest of the WHIPPED cream (220g) mixing gently with a spatula.
Refridgerate for at least an hour.
The next step is the Dacquoise Biscuit (Almond Cake)
This is a great substance. I would double or triple the recipe because you will snack on it as tensely assemble your log.
Preparation time: 10 mn + 15 mn for baking
Equipment: 2 mixing bowls, hand or stand mixer with whisk attachment, spatula, baking pan such as a 10"x15" jelly-roll pan, parchment paper
Note: You can use the Dacquoise for the bottom of your Yule Log only, or as bottom and top layers, or if using a Yule log mold (half-pipe) to line your entire mold with the biscuit. Take care to spread the Dacquoise accordingly. Try to bake the Dacquoise the same day you assemble the log to keep it as moist as possible.
Ingredients:
2.8 oz (3/4cup + 1Tbsp / 80g) almond meal
1.75 oz (1/2 cup / 50g) confectioner's sugar
2Tbsp (15g) all-purpose flour
3.5oz (100g / ~100ml) about 3 medium egg whites
1.75 oz (4 Tbsp / 50g) granulated sugar
1. Finely mix the almond meal and the confectioner's sugar. (If you have a mixer, you can use it by pulsing the ingredients together for no longer than 30 seconds).
2. Sift the flour into the mix.
3. Beat the eggs whites, gradually adding the granulated sugar until stiff.
4. Pour the almond meal mixture into the egg whites and blend delicately with a spatula.
5. Grease a piece of parchment paper and line your baking pan with it.
6. Spread the batter on a piece of parchment paper to an area slightly larger than your desired shape (circle, long strip etc…) and to a height of 1/3 inches (8mm).
7. Bake at 350°F (180°C) for approximately 15 minutes (depends on your oven), until golden.
8. Let cool and cut to the desired shape.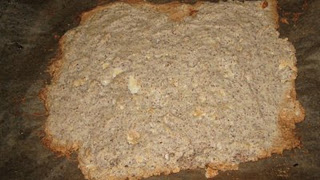 OK, at this point, hopefully your Creme Brulee insert has been long baked and frozen, your mousse is nice and chilly, and your praline feuillete is cold and ready to be cut. Also, hopefully your children have gone to bed and you've brought out the liquor, because that will help if you're into that sort of thing.
If the stars are lined up for you, you're going to start your assembly.
1) Line your mold or pan, whatever its shape, with rhodoid OR plastic film. Rhodoid will give you a smoother shape but you may have a hard time using it depending on the kind of mold you're using. If you have a silkscreener in the family, steal some of his transparencies for this step.
2A) Cut the Dacquoise into a shape fitting your mold and set it in there. If you are using an actual Yule mold which is in the shape of a half-pipe, you want the Dacquoise to cover the entire half-pipe portion of the mold.
3A) Pipe one third of the Mousse component on the Dacquoise.
4A) Take the Creme Brulee Insert out of the freezer at the last minute and set on top of the mousse. Press down gently to slightly ensconce it in the mousse.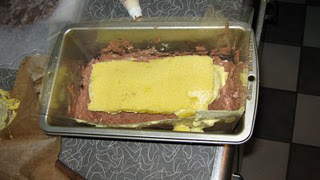 5A) Pipe second third of the Mousse component around and on top of the Creme Brulee Insert.
6A) Cut the Praline/Crisp Insert to a size slightly smaller than your mold so that it can be surrounded by mousse. Lay it on top of the mousse you just piped into the mold.
Note: At the recommendation of some of the daring bakers, I broke up this layer so that the log would be easier to cut in the end.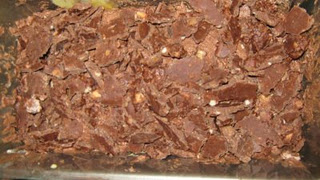 7A) Pipe the last third of the Mousse component on top of the Praline Insert.
Note: I did not have enough mousse for this process, hence my end result was not so sleek because it didn't fill up the mold.
8A) Freeze for a few hours to set. Take out of the freezer.
Now you have to make your ganache.
Equipment: pan, whisk. If you have plunging mixer (a vertical hand mixer used to make soups and other liquids), it comes in handy.
Note: Because the ganache hardens as it cools, you should make it right before you intend to use it to facilitate piping it onto the log during assembly. Please be careful when caramelizing the sugar and then adding the cream. It may splatter and boil.
Ingredients:
1.75 oz (4 Tbsp / 50g) granulated sugar
4.5oz (2/3 cup – 1 Tbsp/ 135g) heavy cream (35% fat content)
5 oz (135g) dark chocolate, finely chopped
3Tbsp + 1/2tsp (45g) unsalted butter softened
1. Make a caramel: Using the dry method, melt the sugar by spreading it in an even layer in a small saucepan with high sides. Heat over medium-high heat, watching it carefully as the sugar begins to melt. Never stir the mixture. As the sugar starts to melt, swirl the pan occasionally to allow the sugar to melt evenly. Cook to dark amber color (for most of you that means darker than last month's challenge).
2. While the sugar is melting, heat the cream until boiling. Pour cream into the caramel and stir thoroughly. Be very careful as it may splatter and boil.
3. Pour the hot caramel-milk mixture over the dark chocolate. Wait 30 seconds and stir until smooth.
4. Add the softened butter and whip hard and fast (if you have a plunging mixer use it). The chocolate should be smooth and shiny.
9A) Pipe the Ganache Insert onto the frozen mousse leaving a slight eidge so that ganache doesn't seep out when you set the Dacquoise on top.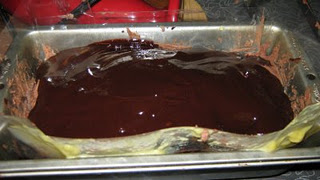 10A) Close with the last strip of Dacquoise.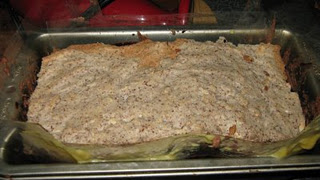 Freeze until the next day.
OK, so now you are almost there, and you're feeling pretty good about the last twelve hours, and then you start to look at some of the Daring Baker posts coming up, and oh man, these are some of the loveliest cakes you have come across. And as you are admiring the work of your fellow daring bakers, you start to think, I'm not a pastry chef! What am I doing here and what is this mess that I have created! (Oh wait, I think I might be talking about me here) But then I stop right there, because damn it all to hell if I'm not daring enough to spend twelve hours on one cake, and to carmelize sugar wrong four times in one day! This is bravery if I ever saw it. So I put down the leftover dacquoise in one hand and praline in the other (because wouldn't they just taste so good together at 11:30 pm?) and I go to bed, ready for the artistic challenge that awaits me in the morning.
And once the breakfast dishes are done, I'm ready to start the Dark Chocolate Icing.
I doubled this recipe and that was a really good idea.
Preparation time: 25 minutes (10mn if you don't count softening the gelatin)
Equipment: Small bowl, small saucepan
Note: Because the icing gelifies quickly, you should make it at the last minute.
For other gelatin equivalencies or gelatin to agar-agar equivalencies, look at the notes for the mousse component.
Ingredients:
4g / ½ Tbsp powdered gelatin or 2 sheets gelatin
¼ cup (60g) heavy cream (35 % fat content)
2.1 oz (5 Tbsp / 60g) granulated sugar
¼ cup (50g) water
1/3 cup (30g) unsweetened cocoa powder
1. Soften the gelatin in cold water for 15 minutes.
2. Boil the rest of the ingredients and cook an additional 3 minutes after boiling.
3. Add gelatin to the chocolate mixture. Mix well.
4. Let cool while checking the texture regularly. As soon as the mixture is smooth and coats a spoon well (it is starting to gelify), use immediately.
Unmold the cake/log/whatever and set on a wire rack over a shallow pan.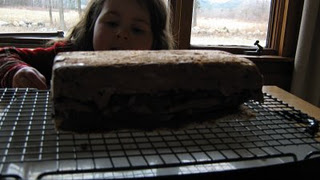 Cover the cake with the icing.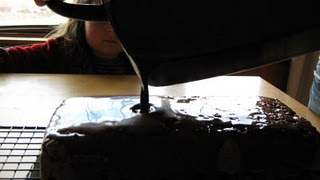 Let set. Return to the freezer.
You may decorate your cake however you wish. The decorations can be set in the icing after it sets but before you return the cake to the freezer or you may attach them on top using extra ganache or leftover mousse, etc…
Transfer to the refrigerator no longer than ½ hour before serving as it may start to melt quickly depending on the elements you chose.
And that's the end of it. Because I am married to a snowflake maker, he designed some nice snowflakes which sort of worked on top if you look closely. This will come back out tomorrow for our New Year's extradanaire party, and I have high hopes for the eating experience.
So am I a pastry chef? A yule log maker? Still, not really, and no. But I am so daring!
EPILOGUE: New Year's Eve
Finally time to eat the thing! Mid-party, we decided to try the snowflake effect one more time…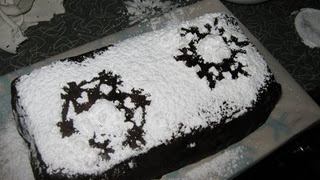 And this time you can even tell that they are snowflakes! (Isn't Joey such an artist with paper crafts?) We cut into the log…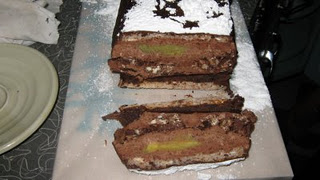 And then we ate it! And man was it good. The response was altogether favorable, and thank god, because I think I would have started to cry in the middle of the party had any one thought it was less than life changing. All of that time in the kitchen has made me a little sensitive, I guess. But the yule log is done, and we're on to a new year!