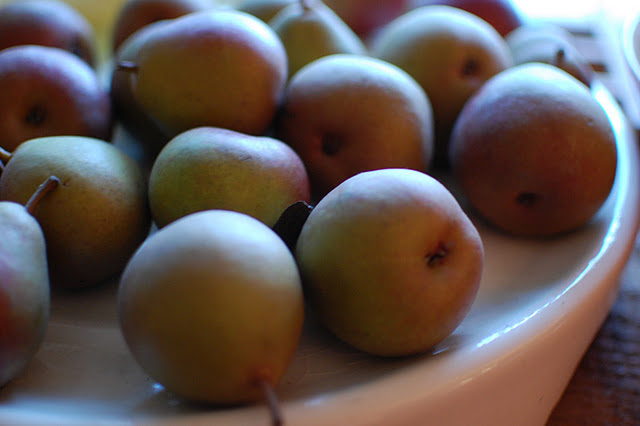 Last week, I came into the small fortune of 20 perfect seckle pears. Those pears were so beautiful, we almost missed their ripeness because we were so busy admiring them. The first one spouted a few tragic snowflakes of delicate mold, and then it became clear that we had 24 hours to eat the rest of them. We did it. We rose to the challenge, and at any given moment of that day (and into the night), there was a pear attached to someone's face. There was juice running down arms, and there were pears in everything.
And so we found this happy combination, well-timed, I think, as we are waiting patiently for our first killing frost. Still, still waiting, and then the plants, and more importantly, the weeds, will wither and keel over, and the site of them will stop making me feel… well, I'll just come out and say it, like a failure.
I know that this is the second post in a row in which I've talked about failing my garden, and I know (or at least I'll go ahead and imagine) that you're saying, "lay off it, Alana! We're all there- we've all given up, the weeds have taken over!" Or, even, "garden! I don't even have a garden! Stop being so hard on yourself!"
But those who have sat in my "garden" this summer while I try to distract them with cocktails know the truth. I never had a chance this year. My friend, Brandee said it best sometime in early July, as I hacked at the thistle in order to get at the mint for her pimm's cup.
"Oh, honey. You need some help out here."
But there have been successes. A proud number of green zebra tomatoes. 3 crimson lee peppers. Very happy jerusalem artichokes (always happy, of course). Enough tomatillos for a damn fine bowl of salsa. 6 stalks of brussels sprouts that just might be ready by December. And 4 vigorous kale plants that only have more sweetness ahead of them when the frost comes.
Hooray for kale. It makes me feel like a winner in every way.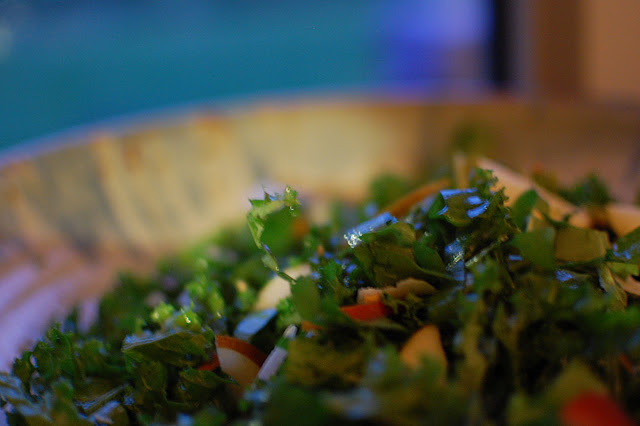 Pear, Kale, and Sorrel Salad
1 small bunch curly kale
2 seckel pears (or 1 larger pear)
6 leaves sorrel (You can, of course, leave these out if you don't have them, but they add a delicious tang to the whole dish)
juice of 1 lemon
2 T olive oil
1/4 cup toasted almonds, roughly chopped
peeled parmesan
salt and pepper
Tear the kale off the stem, and chop it finely. Do the same with the sorrel. Cut the pear into 1/2-inch slices and toss with the greens. Squeeze a lemon directly over the whole thing. Then spoon the olive oil, sprinkle with salt and pepper, and toss to combine. Finish off with the toasted almonds and parmesan. This will serve 4 as a side dish, or you alone if you bring it out to the back yard to watch the sun set as you reflect on the beauty of things.