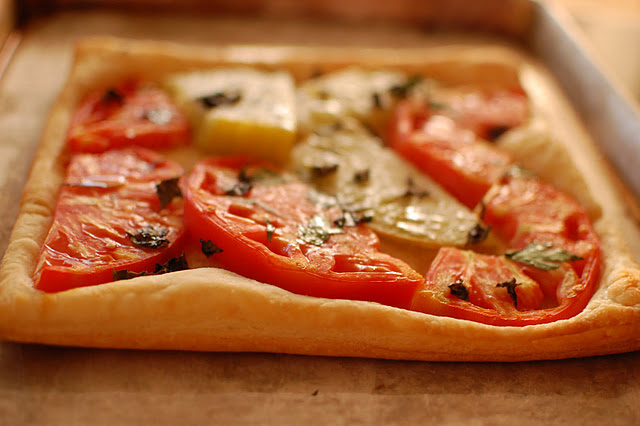 This is it.
These last weeks of August leading into the first weeks in September–I could live in this time forever.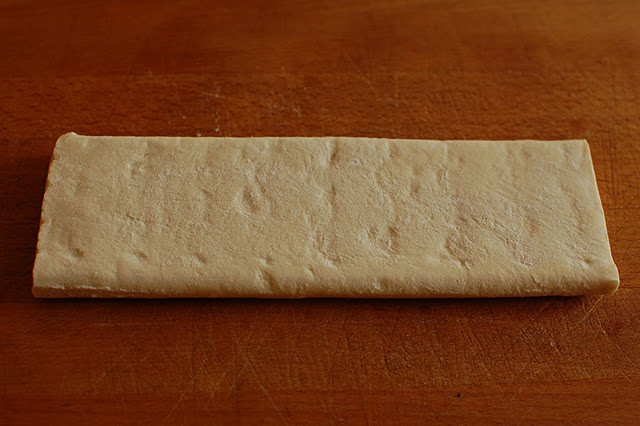 In New England, the shift always comes in one day. Wednesday, it is summer, and the air is hot, and the fan stays directed at the bed all night. Cooking means watermelon, because who could actually decide to add heat to the world.
Then it's Thursday, and all of the sudden the air moves instead of stands still, and for the first few hours of the day, you've done it. You've worn a sweater. Here, this change is always accompanied by mist that rises from the ground in the morning, and that's what I remember from every late August that I ever got ready to go back to school. Standing in that mist waiting for the school bus to come, cold earlobes, new notebooks. It still feels the same. And every late summer blends together in a wave of mist and corn and books and tomatoes, and every year at this time, I miss every other year and memories hit me with astounding clarity. It must be in the air, because it always happens.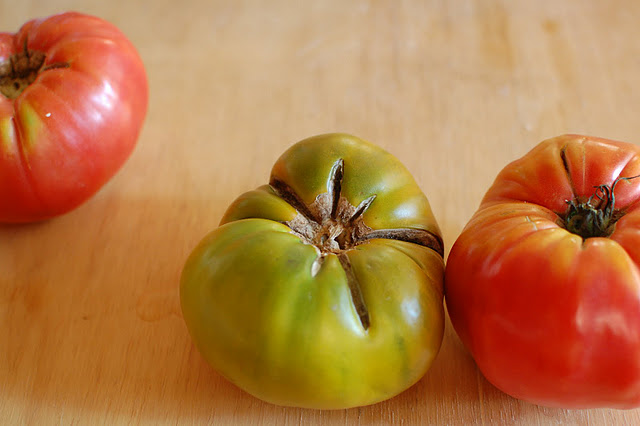 10 years ago, I think maybe to this very day, I met Joey.
I had seen him before and maybe we'd said a few words to each other, but on this day we stood side by side watching the new freshman nervously make their way through the opening ceremonies of college. We were about to be seniors, and we stood in the back with the amused superiority of those who think they have put in their time.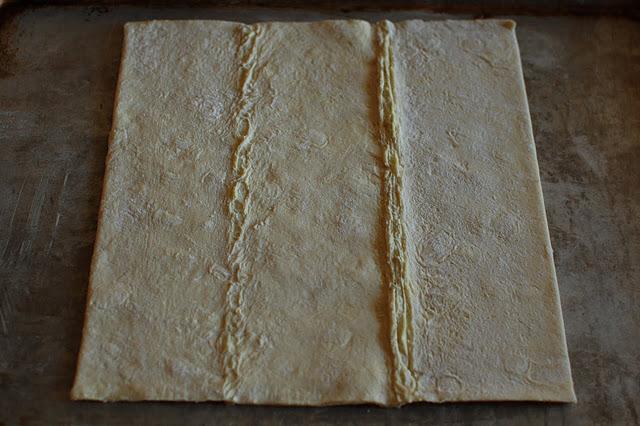 Joey critiqued the the freshman girls' fashion as they walked across the stage and the college president took each of their hands in his, one at a time. I laughed, and then we compared schedules (identical), agreed on the benefits of living off campus (neighbors!), and then we walked out into the cool, 5 o'clock air. We have spent nearly every day together since then.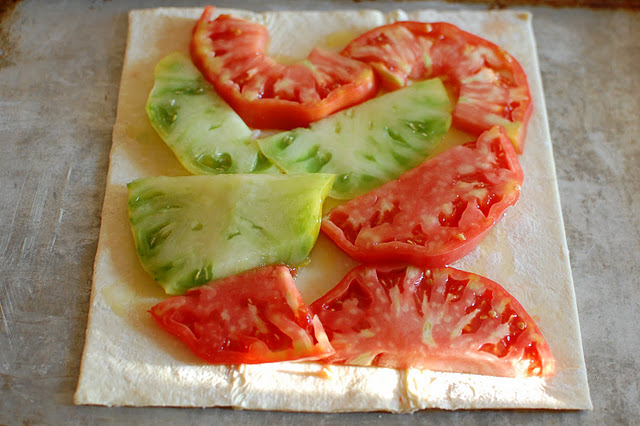 I have finally come to terms with the fact that I love to miss things. I love to miss people who might be far away, and I love to miss other times in my life. It makes me feel more here, and alive, and when I close my eyes and imagine what I miss, I remember again that my imagination is that good, and that all the things I miss can be almost with me if I try hard enough.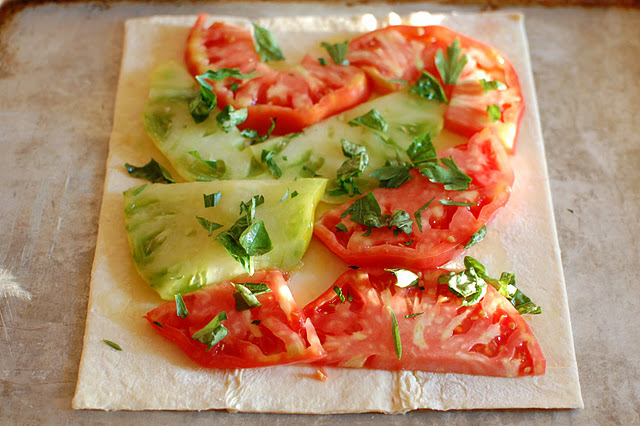 My friend Lissa taught me how to use this sense in the kitchen. More than anyone I know, she can close her eyes and know what she misses. In her imagination, she can taste it and smell it and decide that it is exactly what she needs. Then, she knows what to make for dinner. Just get her started talking about cold blanched greens with scallion dressing on some hot July night. You'll end up going home and making them yourself.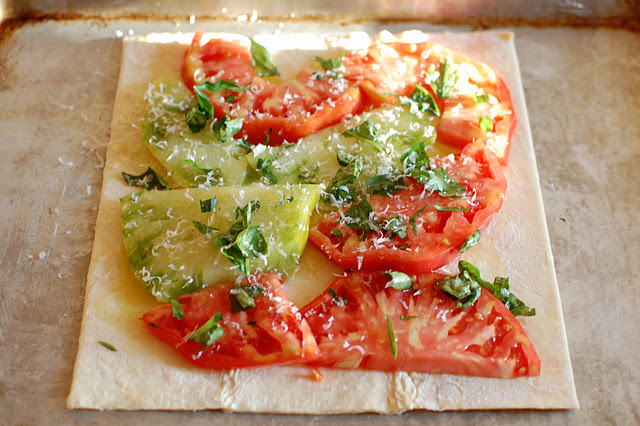 I've been getting more "I'm so uninspired in the kitchen- what do I do?" questions lately. I think that that feeling too is dependent on the time of year. In this last chance at summer, there is so much to do and eat and see and finish before the kids go back to school and the routine starts again. Around here, we have produce bursting out of every seam. Some of it is tragically rotting already, but the rest is perfect, and in the absence of time to think and dream and chop and cook the most marvelous dinner, we end up snacking through the day on tiny golden cherry tomatoes and salted cucumber slices and wedges of sinfully juicy peach.
Of course, sometimes dinner actually has to be made, and the goal is some vehicle that can hold the produce that would normally get shoved in the mouth, juice running down the arm. Pasta always works, as does the trusty galette. Platter salads of any variety will will never get dull, as long as there is a mix of cooked and uncooked vegetables all tossed in a good vinaigrette. But a few weeks ago, Lissa brought a tomato tart to the little lake where we all swim. It was on puff pastry, and the tomatoes were thinly sliced so that they could dry out a bit. There were dallops of goat cheese throughout, and a few different herbs that I'm guessing she had on her counter. It was beautiful, and delicious, and when we oohed and ahhed over it, she said that of course it was easy, and that earlier that day she had started dreaming of it and she knew it was exactly what she wanted to make.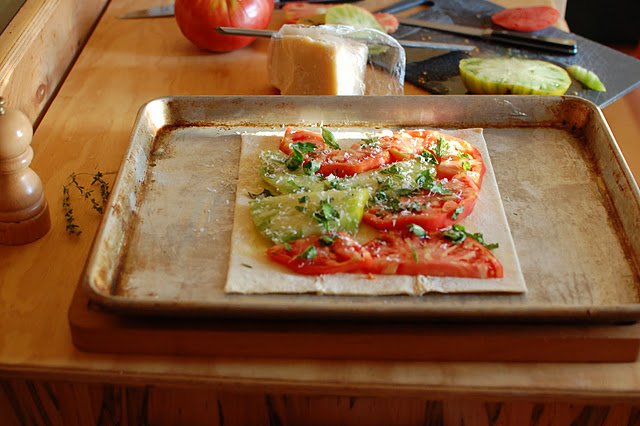 I have a silly habit of sometimes not buying the foods that I know how to make from scratch. I'll think- why buy it? I'll just whip up a batch! And it will be better, and cheaper, and, well, you know the drill. In the case of some foods, like ricotta cheese or granola, this is an entirely logical train of thought. But puff pastry? It took Lissa's tomato tart to convince me to stop saying that I was going to whip up a batch of puff pastry and just buy the damn stuff. And it turns out that on a night when you don't know what's for dinner, a box of puff pastry in your freezer might just be the secret weapon.
On this particular night, I wanted my tomatoes to keep their juice. That was what I tasted when I closed my eyes and imagined the taste of my dinner. So I cut the tomatoes thick, and I scattered a little olive oil and parmesan and the herbs that I had on my counter. This tart had a bit of basil and a scatter of my favorite herb right now, summer savory. But the beauty of it all is that it could of been anything on that pastry, and dinner would have been perfect. I know that this is all simple and easy enough that you know it! But I needed a reminder from Lissa, and so I pass it on to you. And if you're not sure what's for dinner, close your eyes and see what you taste. It might be easier than you think.
Vegetable Tart
2 sheets puff pastry, thawed at room temperature for 30-40 minutes
Olive oil
Cheese: parmesan, goat cheese, ricotta, mozzarella, or none at all
Vegetables: sliced tomatoes, sliced and sauteed zucchini, sliced and lightly roasted potatoes, caramelized onions or fennel… (the list goes on!)
Fresh herbs, chopped
Salt and pepper
Preheat the oven to 375 degrees. Lay the puff pastry sheets out on baking sheets. Brush a bit of olive oil on each sheet. Top with vegetables, leaving 1 to 2 inches of space around the perimeter of each square of puff pastry. Then the herbs, the cheese, and the salt and pepper.
Bake for 25 to 35 minutes, or until the crust is golden.