We're all a bit silly around here this week. The end of the summer, perhaps, the changing of the air pressure–who can explain it? Or maybe it might have something to do with the ruby orbs so recently hanging on our little wee plum trees.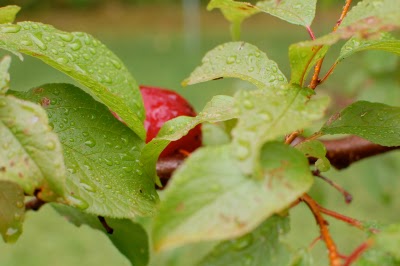 We planted our orchard two years ago- nine trees of various persuasions in the front yard. I loved them so completely and immediately that I started to feel like when people asked me how many children I had, I should answer "two… and nine fruit trees." I sang to those trees, caressed their leaves and watered them with the perfect trickle at the root for the perfect amount of time.
About six weeks later, blessed by a friend who was taking pity on our poor neglected marriage, we went to Montreal for the weekend- without the girls. We gave them both a quick kiss on the head and we were off, but not before I gave detailed instructions on the care and love of my nine little trees. My friend followed my requests to the letter, and I know that there was no way that she could have prevented the massacre that occurred while she and the girls slept.
When we returned from our weekend of romantic city living, the carnage was heartbreaking. Tender young tree bark peeled from the narrow trunk, graceful branches gnawed off at the joint, remaining limbs going every which way. The deer had gotten my orchard.
I knew that I should have put up a fence, but it was just so expensive. Even more, what would the neighbors say! I bombarded the ground around the trees with every strange repellent that people suggested- irish spring, human hair, pee, garlic. Nothing could keep them away, and I was afraid that my dear baby trees would never live to bear their first fruit.
Somehow, eight of nine survived the summer. They all looked pretty sad, but when I finally decided to put up a fence, I could have sworn that they perked up a bit. Indeed, my fence does not make me a favorite with my neighbors (honestly, one asked if I was keeping prisoners in there), but I say, Temporary! If the fence can protect these now-teenage trees for just a wee bit longer, the day will soon come when you can pick an apple as you walk by. I imagine endless fruit, fruit for all!
This week, there is just a bit of fruit on those adolescent trees, but every life-filled sphere makes us giddy. Last year, we got two plums, and this year there are more! The plums have the most lovely bloom on their surface, and of course Joey stole the first plum from the tree, took his paintbrush to its dusty outer, and gifted me with this image: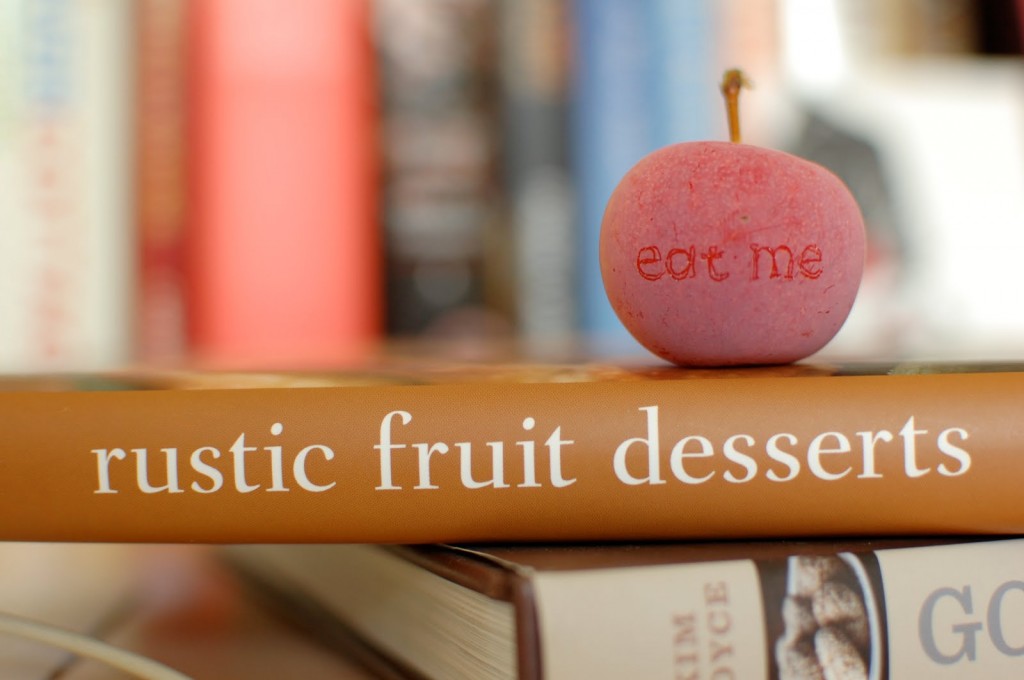 And so when it came time to decide what my offering for summer fest would be this week, the plum itself decided. It said, "Stew me on the stove, marry me with nectarines, and let's call it a slump!"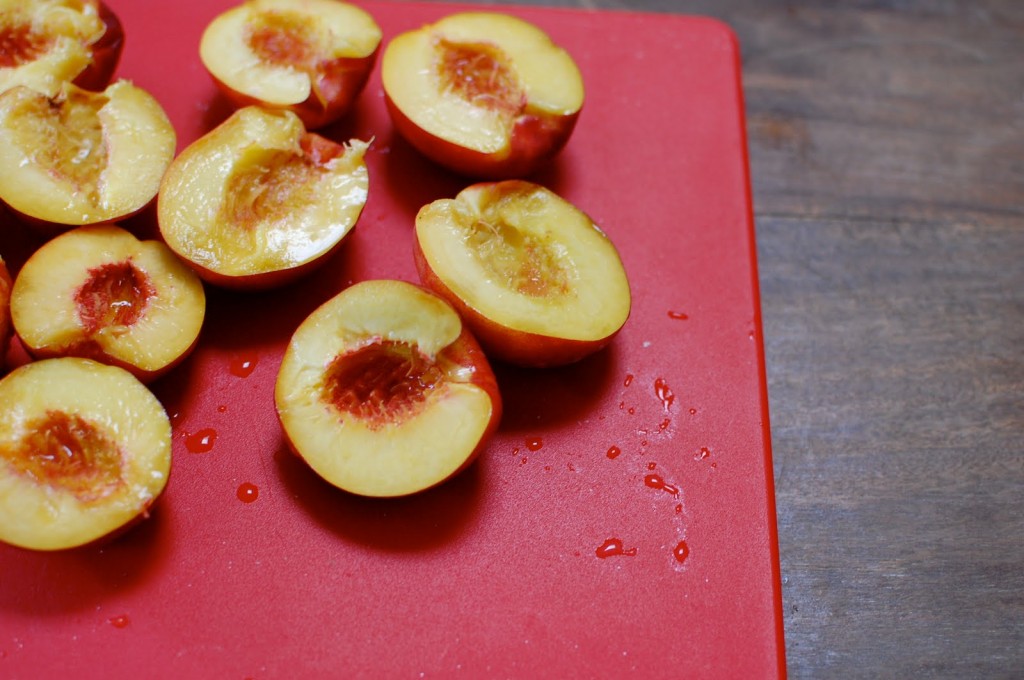 The slump is, of course brought to my kitchen this summer by my very favorite little book, Rustic Fruit Desserts. I have learned so much from this book! Of slumps, and grunts, and pandowdies. Of buckles, and cobblers, and fools. As I stand in the midst of my lovely little trees and I dream of the fruit to come, I know that I will be ready with this perfect book at my side.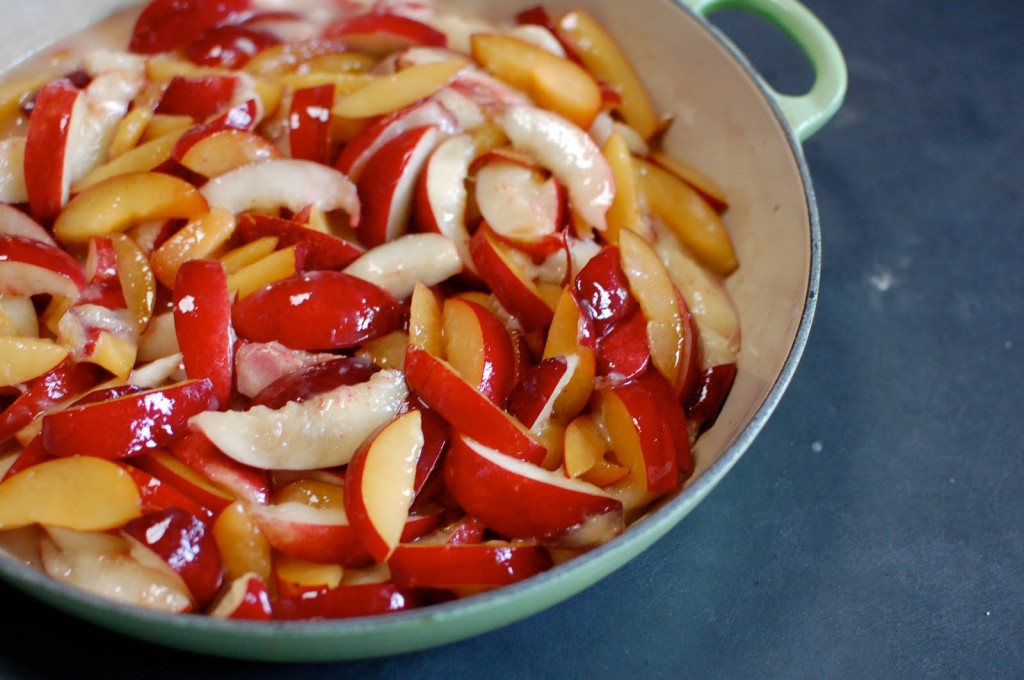 A slump is a steamed pudding, a dessert for the day that you can bear the stove top but not the oven, a day when stewed fruit with buttermilk dumplings is just the thing.
I know! It is such a day! Onward!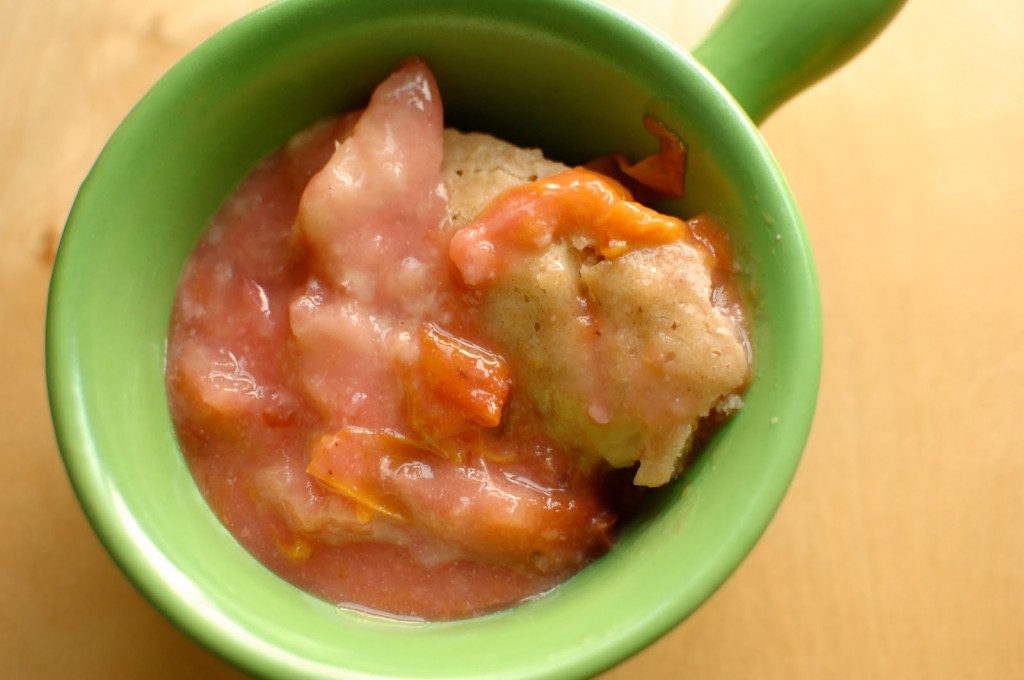 Stone Fruit Slump
adapted from Rustic Fruit Desserts, Corey Schrieber and Julie Richardson
for the fruit filling:
4 1/2 pounds mixed plums, nectarines, or peaches, pitted, and sliced into one-inch slices
1/2 cup sugar
3 tablespoons cornstarch
1/2 teaspoon sea salt
juice of 1/2 lemon
for the dumplings:
1 1/2 cups all-purpose flour
2 tablespoons sugar
1 teaspoon baking powder
1/2 teaspoon baking soda
1/2 teaspoon sea salt
1/2 teaspoon cinnamon
1/2 teaspoon cardamom
1/2 cup cold, unsalted butter, cut into 1/2 inch cubes
1 cup cold buttermilk
Make the fruit filling: In a large mixing bowl, combine the cornstarch, sugar and salt. Toss the sliced fruit in with the cornstarch mixture and coat thoroughly. Stir in the lemon juice, then transfer fruit mixture into a large skillet or dutch oven. Let stand for fifteen minutes.
Bring the fruit mixture to a low simmer, stirring occasionally and gently. Simmer for two minutes, then remove from heat.
Make the dumplings: Whisk the flour, sugar, baking soda, baking powder, salt, cinnamon, and cardamom together in a bowl. Add the butter and toss until coated. Using your fingers, rub the butter into the mixture until crumbly. Add the buttermilk and stir until just combined.
Spoon the dough over the fruit, evenly distributing it in about eight servings. Return the pot to the stovetop and bring to a low simmer. Cover with a tight fitting lid, and continue to simmer for about twenty minutes, or until dumplings are puffy and cooked through. Remove the cover and let sit for fifteen minutes before serving.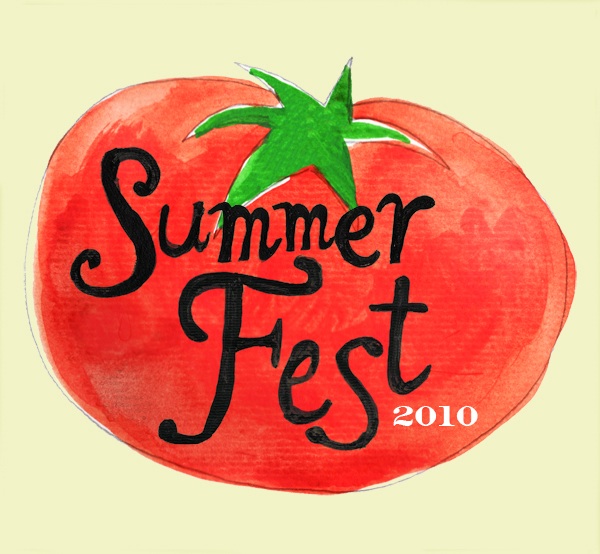 And with such a worthy topic as stone fruit, I cannot even imagine the glorious summer fest submissions that lie ahead! Oh, love is surely a ripe peach, fragrant and fleeting. Here are just a few lovely treats from this week's line up.
Sara at Cooking Channel: Savory Stone Fruit recipes.
Todd and Diane of White on Rice Couple: Riesling Poached Pluots.
Margaret at A Way to Garden: What is stone fruit, anyhow? Plus: Clafoutis batter revisited.
Caroline at The Wright Recipes: Ginger and Vanilla Poached Peaches.
The FN Dish: Paula's Perfect Peach Cobbler.
Alison at Food2: Peachy Party Foods.
Kelly at Just a Taste: Peaches & Cream Cupcakes.
Liz on Healthy Eats: Puttin' Up Peach Pickles, Compote and More.
Food Network UK: How to Poach a Peach.
Judy of Divina Cucina: Chocolate Amaretti Baked Apricots.
Cate at Sweetnicks: Blueberry Peach Smoothies.
Paige at The Sister Project: A Summer Fruit Whatchamacallit (not a pie, not a crisp, but delicious).
Marilyn at Simmer Till Done: Cherry Apricot Pie with Ginger-Almond Crunch.
Alana at Eating From the Ground Up: Stone fruit slump.
Caron of San Diego Foodstuff: grilled peach parfait and coconut peach gazpacho.
The Gilded Fork: dossier & recipes featuring peaches, apricots, nectarines, plums, cherries, almonds, coconuts.
Gluten-Free Girl and the Chef: gluten-free peach-blueberry buckle.
Tara at Tea & Cookies: Making Peach Jam.
Tigress in a Jam: nectarine preserve with summer savory and white pepper.
And you know how it goes now… your turn!