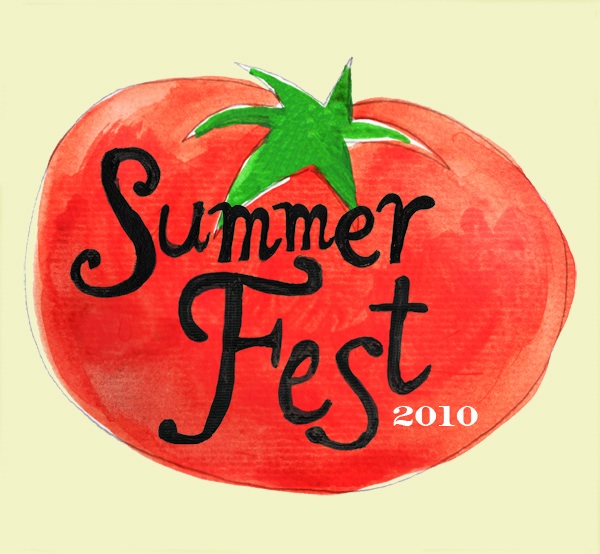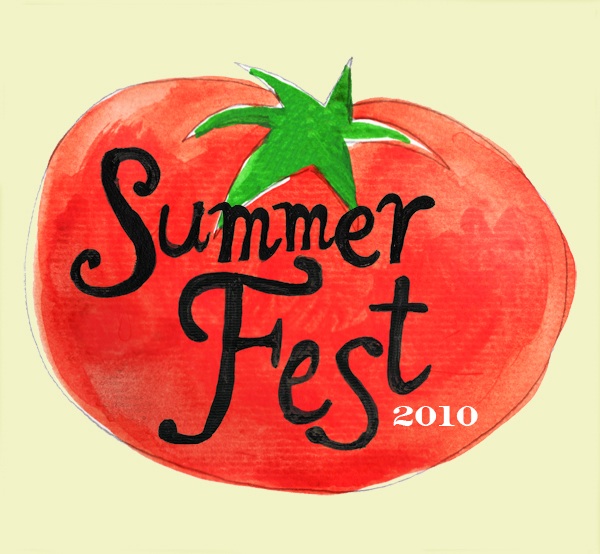 Oh, ho! It's time for a party! I'm a little bit excited that I got invited and because I'm that sort of guest, I'm bringing all my friends along too! Are you ready for Summer fest 2010?
I do agree that it's good to know all the details before you actually commit to a party, and I'll tell you what I know. You never know when you will just say yes for the hell of it, and before you know it you're in the back of someone's jeep, squeezed in between two people you barely know, and the driver who may or may not be entirely competent is speeding through the dark to some undisclosed location. This is not that kind of party, I promise you. You will not be stranded, and wishing that you never went out. (You can tell I had some traumatic experiences in high school that I haven't quite gotten over) You will actually be safe at home in your kitchen, and you will be cooking fabulous things with friends.
I know! Let's get started!
So here's how it works. For the next few weeks, we'll be cooking with a few others around here. There will of course be a theme, because who doesn't love a theme, and those themes will revolve around the ingredients that most of us gleefully have coming out of our ears these days. I'll tell you what I'm making, and I'll tell you about what other people are making too, and then, if you're feeling bold, you tell me what you're making!
I know! Can you even wait? I can't!
This week, this very first week of Summer fest 2010, we are paying homage to both of those tenacious and all-powerful garden presences: cukes and zukes.
Having been raised on far too much zucchini frittata, I just don't do the zukes. Cukes however, are an entirely different story.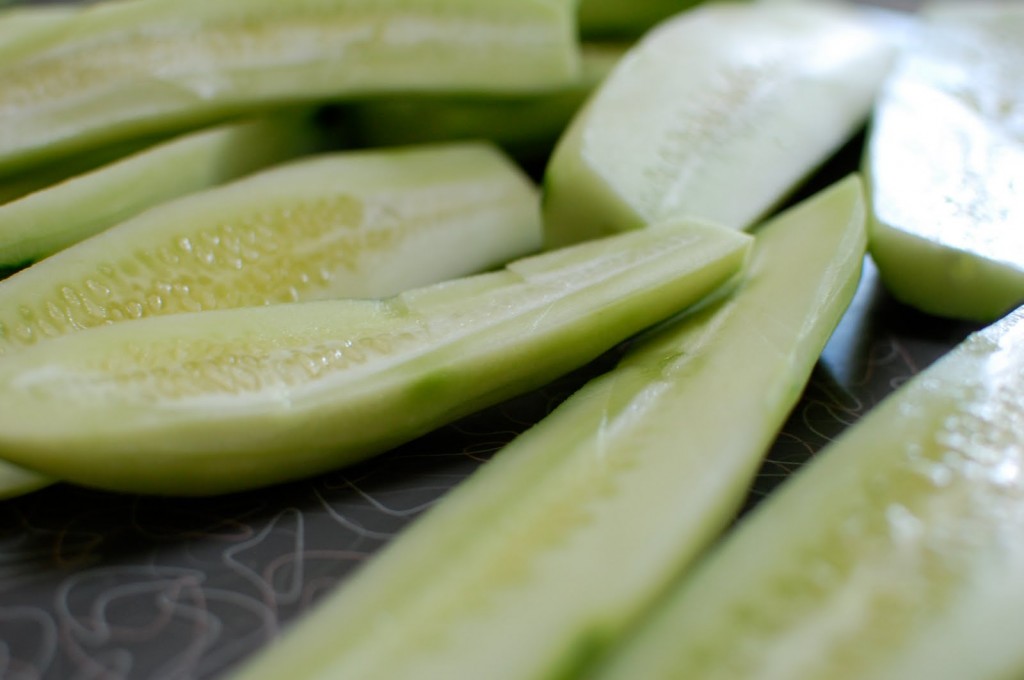 I might like cucumbers even more than I like radishes. I might be able to live on cucumbers for a very long time, as long they have just a bit of salt on them. Peeled or not, cut into spears or slices, I'll eat them with glee until the vines are empty.
As I tried to figure out what to bring to this first exciting week of Summer fest 2010, I thought I'd bring something for the kids, you know, the "mac and cheese at the potluck" if you will, because I do that sort of thing. But then I had such a day with girls, and there was one too many tantrums, and I changed my mind.
I am done trying to make food that the girls will eat. I am done! Stomping my foot done!
Those girls are wild and wonderful and unpredictable. They are exploring the world with imagination and abandon. They are growing at an astounding rate, and everything is changing from one day to the next. One moment they are speaking their secret language as they set off for an adventure, and the next, I am shocked and appalled to find a a perfect imprint of Sadie's teeth on Rosie's chest. There is a shadow of a bruise as well, and Sadie explains to me that she bit her sister because she was taking too long to brush her teeth.
I am done. I just can't predict what will make them clean their plates or make them cry at the dinner table. They can forage. There are plenty of potatoes in the garden.
Today, this one is for the grownups.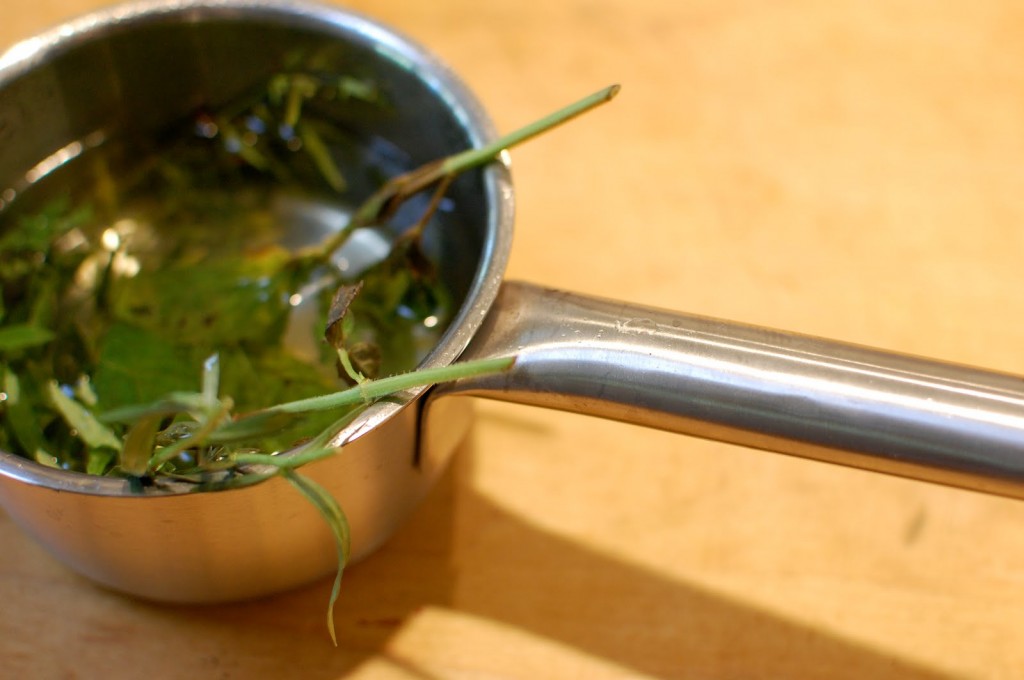 It turns out that I made dessert. And although you would think that anything sweet and cold would please the littles, not so over here. They gave it a try, and they were actually quite gracious about it. There was a pucker, and a "hmm" and a "can I just have the shortbread?"
More for me.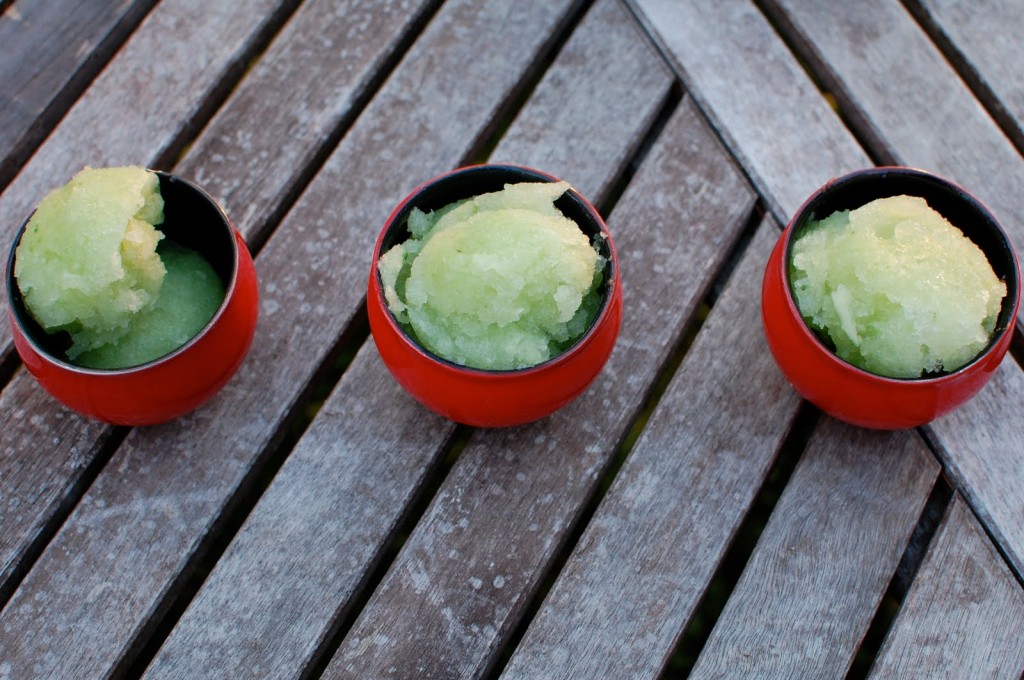 The truth is, I loved this. It was cold, and herby, and just sweet enough, and the texture was wild and unexpected. My friend Sarah was in the kitchen with me today, and her offer to whip up the lime shortbread as I stirred the frozen cucumber ice was too good to pass up. For the grownups, this was just the right dessert, and although Joey's pickle making obsession has gotten so out of control this year that I have had a hard time getting my hands on the cucumbers in this house (20 jars of pickles!), I was very thankful for the few that I had today.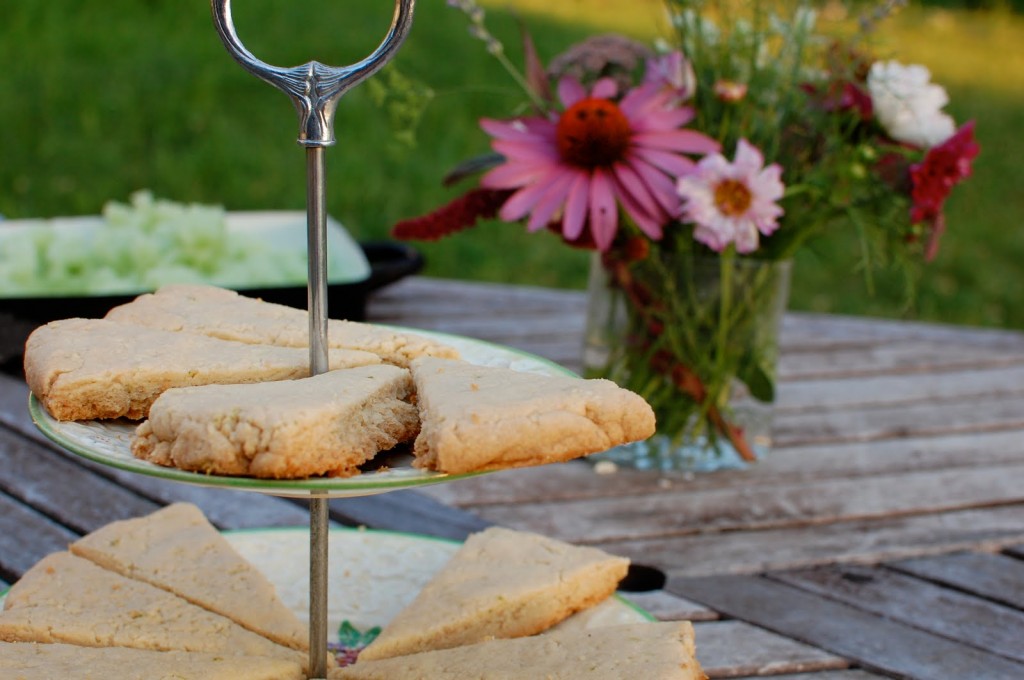 Cucumber Mint Sorbet with Lime Shortbread
(with thanks to Joey for leaving me a few cukes, and to Sarah for the shortbread)
For the Sorbet:
4 pounds cucumbers, peeled, seeded, and cut into chunks
1 1/2 cups water
1 cup sugar
2 5-inch mint sprigs
1 5-inch tarragon sprig
For the Shortbread:
2 sticks unsalted butter
1/2 cup packed light brown sugar
2 1/2 cups all-purpose flour
1/2 teaspoon kosher salt
1 teaspoon rum
1/2 cup toasted roughly chopped cashews
zest of one lime
Make the sorbet– In a small saucepan, combine the water and the sugar. Bring to a simmer over low heat, stirring to dissolve the sugar. When the sugar is dissolved, bring the mixture to a boil, and let it boil for two minutes, stirring occasionally. Remove from heat, and submerge the mint and tarragon sprigs in the liquid. Cover and let sit for 20 minutes. Strain and discard herbs.
Puree the cucumbers in a food processor until entirely smooth. Combine the cucumber puree with the sweet herb syrup in a freezer safe dish. Place in the freezer and freeze for 3 hours, stirring every 30 minutes.
Make the shortbread–Preheat the oven to 275 degrees. Butter an 8 or 10-inch springform pan. Cream the butter and brown sugar in a stand mixer until light and fluffy, about 2 minutes. Add the flour, salt, cashews and rum, and mix just until the flour is combined. Press into the prepared pan, and sprinkle the lime zest over the top. Bake until shortbread is just dry and starting to turn golden, 50-60 minutes.
So what else is everyone making this week? It's quite a spread, so far as I can see.
Margaret Roach of A Way to Garden is talking about why size matters (smaller! not bigger!), and she's sharing pickling and freezing tips.
Michelle Buffardi over at The Cooking Channel's Devour/The Blog enlightens us on zucchini's unexpected diversity, and at Food Dish/ Food Network, she's making Paula Deen's zucchini bread.
Alison Sickelka of Food2 blog starts off the meal with a few zucchini appetizers.
On zucchini appetizers:
http://www.food2.com/blog
Elizabeth Gray at healthy eats is offering a cucumber salad and a few other ideas for our favorite cukes and zukes.
Cate O'Malley at Sweetnicks is bringing Indian Cucumber Wraps.
And my friend Paige over at the sister project is hating zucchini, and telling us all about it.
Diane and Todd, the White on Rice Couple are stuffing cucumbers with prosciutto and feta (I hope they made enough- everyone's going to want one of those!)
Kelly Senyei at Just a Taste is bringing a cucumber and sesame salad, and she's giving us a special lesson in slicing cucumbers on a mandoline.
Still have more cukes and zukes?
Shauna at Gluten Free Girl made soup and soupcicles.
Tigress in a Pickle made so many pickles.
And Judy the Tuscan Diva has fried squash blossoms!
And there's more coming! I'll keep you up to date as the day goes on. How about you? No need to come to the party empty handed…