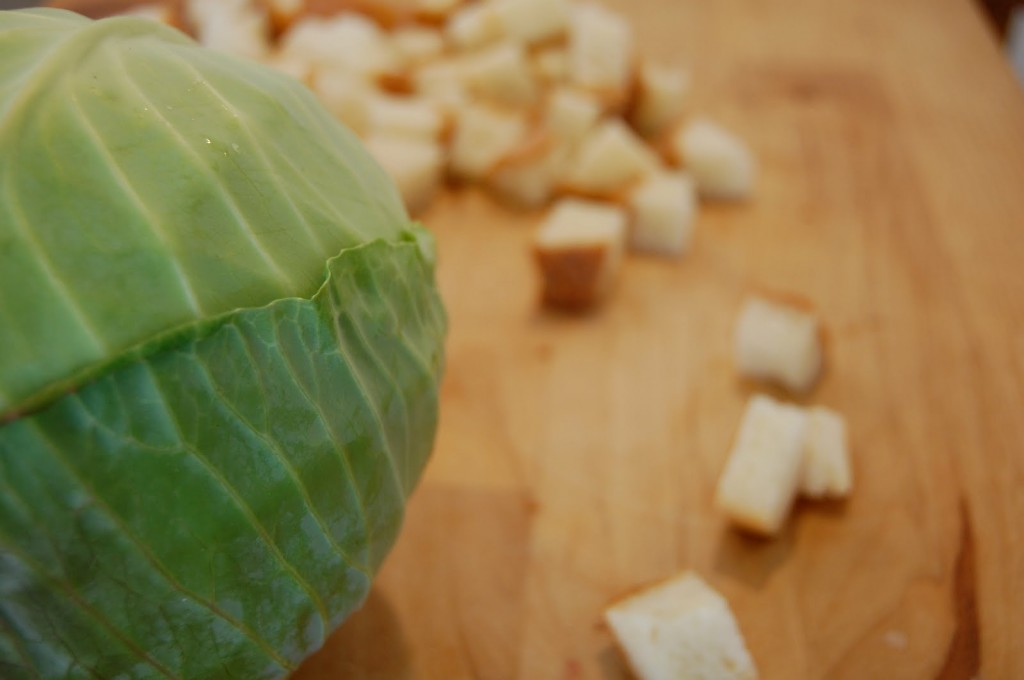 We're finally here. Are you ready?
I bet you are.
Cabbage week is starting off with a bang over here. My house smells…fabulous.
I am not getting rickets anytime soon.
My mother came over for lunch today. She's not a cabbage fan, but she knows it is cabbage week, so I was pretty sure she would understand. I made this cabbage and bread soup, layered with butter and topped with cheese. It was salty and lovely with a little bit of crunch to the cabbage. The cold wind hit the windows while we ate, and I felt warmer and warmer with every bite.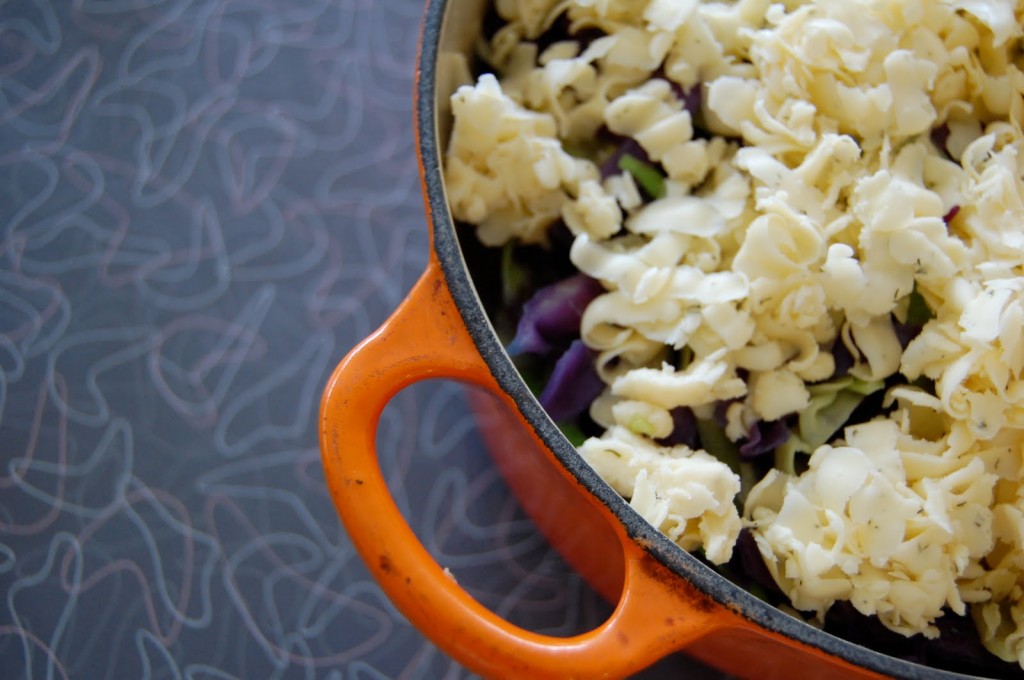 My mom wanted you to know that she had seconds.
I had seconds too.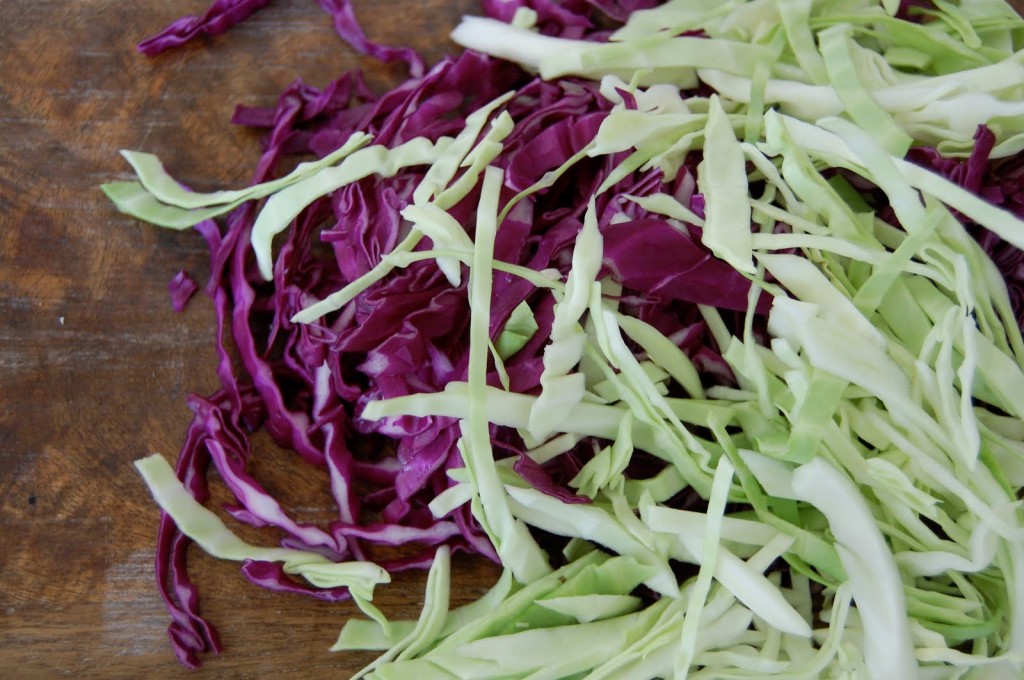 This recipe belongs to the long list of wonderful things to make when you are lucky enough to have stale bread in your possession. Some people don't know what they've got when they have a good hard loaf of bread on their counter. You're not going to believe this but some people actually (are you sitting down here?) throw it away! I know! Think how much perfectly stale bread goes in the compost, or even more horribly, the garbage! Oy. Just think of all that panzanella, all that bread pudding. So many heavenly garlic croutons? Today that bread is going straight into the pot. And while the cold wind whips outside, you will be warm, warm, warm.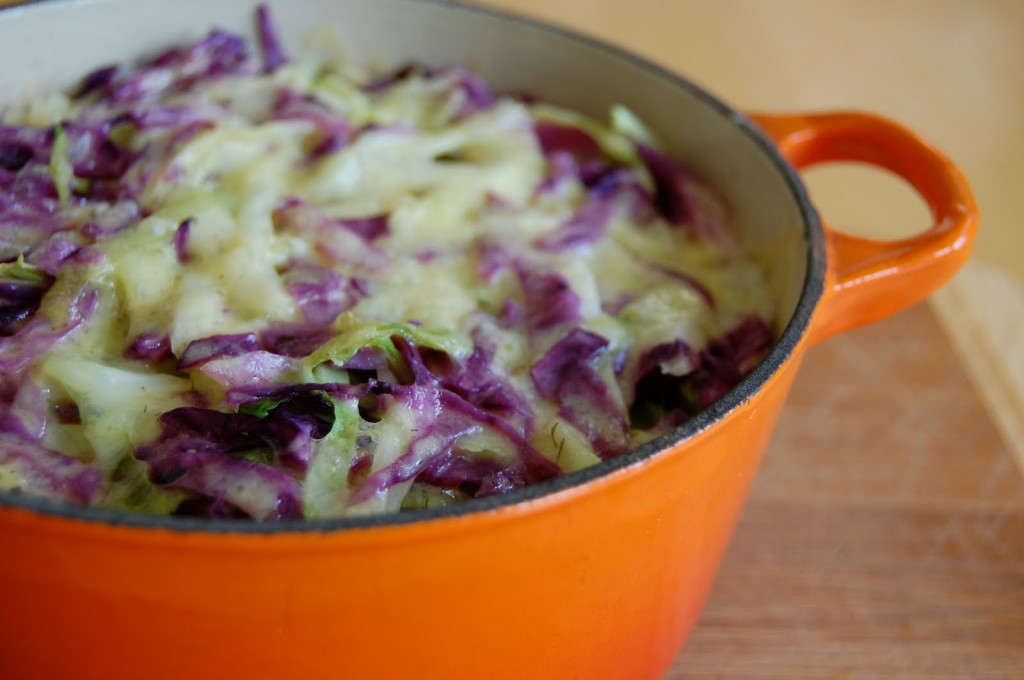 Italian Bread and Cabbage Soup
adapted from Moosewood New Classics
serves 2-3, but will double perfectly
3 cups cubed bread (any kind will do but a sourdough or a hearty rye will be especially nice)
3 tablespoons butter
3 cups thinly sliced cabbage (red or green or a mixture)
1/2 teaspoon ground nutmeg
1/2 teaspoon black pepper
1/2 teaspoon salt, or more to taste
3 cups chicken or vegetable stock
1 cup grated havarti dill cheese (or fontina or gruyere if that is what you have)
Preheat the oven to 350 degrees. Put a medium pot of salted water on to boil. While the oven is preheating, lay the cubed bread on a baking sheet and throw it in the oven for a few minutes so it can get a little harder. Take the bread out of the oven, and spread the cubes evenly in an ovenproof casserole dish. Melt two of the tablespoons of butter and drizzle it over the bread cubes.
When the water boils, blanch the cabbage until tender, about 3-5 minutes. Drain well, and spread the cabbage over the bread. Melt the remaining tablespoon of butter and stir in the nutmeg, pepper and salt. Pour the seasoned butter over the cabbage and bread. Pour the stock over everything and evenly spread the cheese on top.
Bake uncovered until the cheese starts to brown, 25 or 30 minutes, Serve immediately.