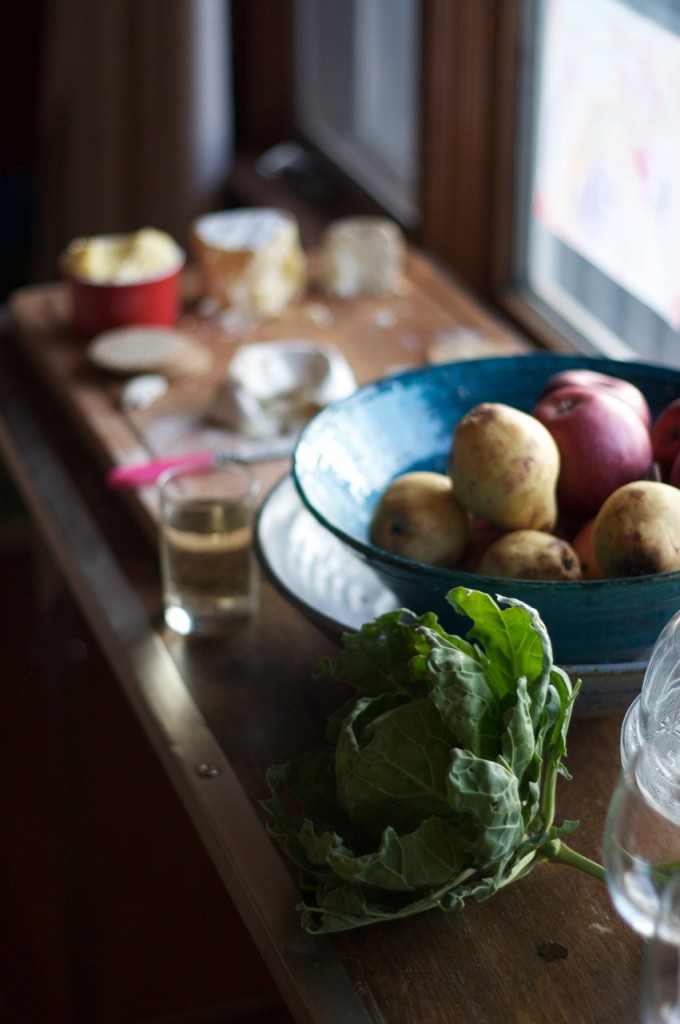 How is everyone today?
Yeah, we're okay too. Joey's well enough to be silkscreening off site, so I'm holding down the fort, slowly cleaning up the glorious mess that was the holiday.
The girls are fighting, and I'm realizing that might be sort of my fault, because all they have had today is leftover dessert. Oh wait, Rosie's eating cheese crackers now. There's protein in those, right?
I'm going to be bold here and make a plug for friend thanksgiving next year. We convinced everyone to abandon their families (Thanks Nancy, Linda, and all of you for being so generous) and come over here. My family ended up slipping in at the last moment, so there was at least one grandma present.
I know this is a family holiday and all, but family has a lot of different meanings around here, so I think that it's a good time to open up the definition.
And how did it go? We cooked all day while the kids ground fancy crackers into the rug. We ate hours after the planned time, and no one complained. We ate ten stalks of brussels sprouts. The food came out really well. I had such a bad headache by the end of the day that I could hardly eat, but I was happy anyway, and I had a great lunch today. We had a wayward traveler up from the city who made us pumpkin hot toddies with dessert. Joey was finally well enough to do dishes. And it was warm, and cloudy, and the kids were outside all afternoon. And I was thankful for that and a lot more.
Today it's cold and windy, and I'm moving slowly. I promise that I won't give you any more Thanksgiving recipes, but I'd feel mean if I didn't tell you about our mashed potatoes. They've got celeriac in them which is totally brilliant, and they're not everyday mashed potatoes, but I'm sure that you can find some special occasion to make them.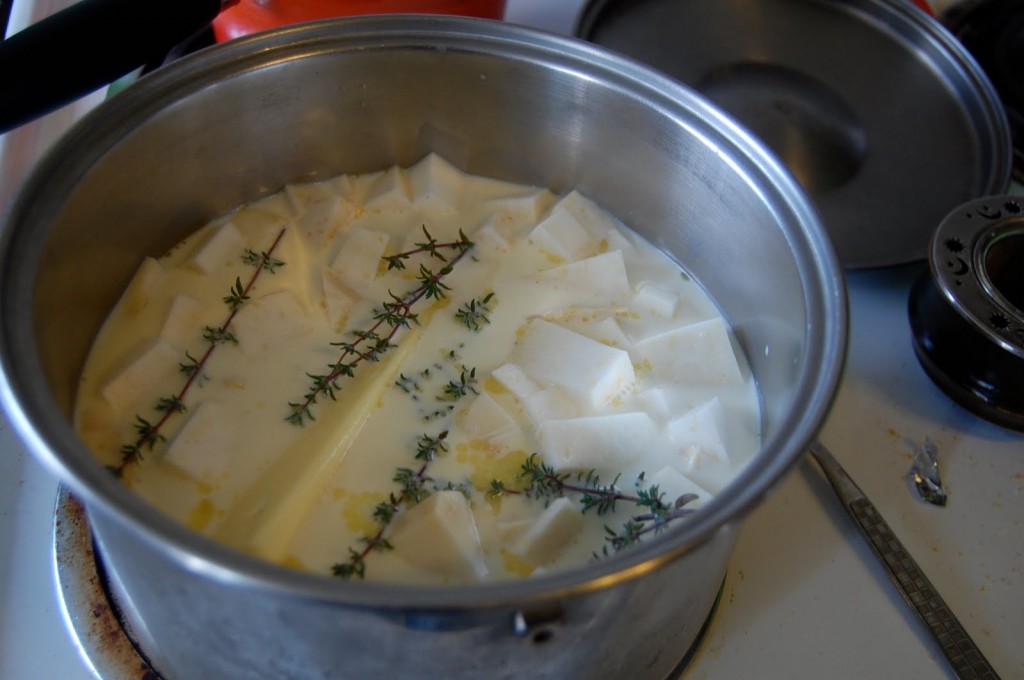 Whipped Mashed Potatoes with Celery Root
adapted from Saveur November 2008
1 lb celery root (celeriac), peeled and cut into cubes
2 cups half-and-half
1 stick unsalted butter
8 sprigs fresh thyme
3 lbs russet potatoes, peeled and quartered
salt and pepper
In a 2 qt. saucepan, combine the celery root, half-and-half, butter, and thyme. Bring to a boil, lower heat, and simmer, partially covered, until celery root is tender, about 25 minutes. Discard thyme. Meanwhile, combine potatoes and 2 tsp. kosher salt in a 6 qt. saucepan add water so the potatoes are covered by about 1 inch. Bring to a boil, lower the heat, and simmer until potatoes are tender, about 20 minutes. Transfer the celeriac and cream mixture to a food processor and blend until very smooth. Drain potatoes and mash with a masher. Add celery root puree and mash a bit more. Add pepper to taste.