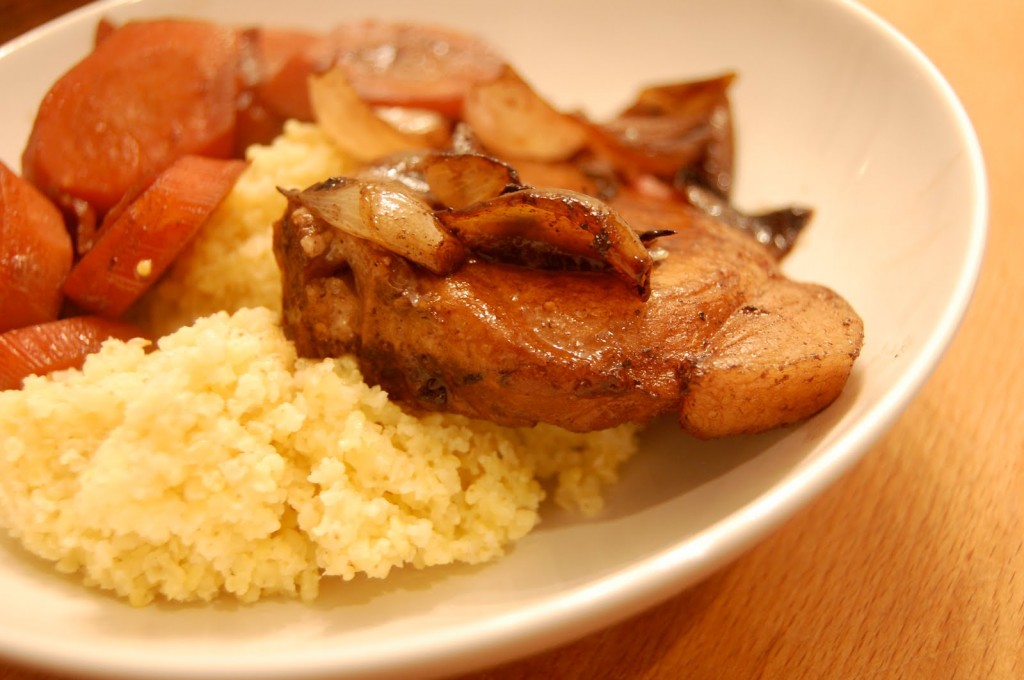 Well, here we are at the end of the week. I'll try not to swear, but what a …week. I'll spare you the details- let's just talk about food.
This is the last Gourmet Today recipe I've got for you. Then it's going back to the library. I'm not even renewing it.
I know it's confusing. Me with my Gourmet love and grief, not even giving it another few weeks?
I've got a few mild criticisms- nothing to convince you not to check it out of the library, really. If you must have the details, I love Gourmet first for the writing, then photos, then recipes. This book only has recipes, so it's not really filling the void that the December issue of Gourmet is creating. But really, I'm finding that I love cookbooks for the soul that I can smell and taste in the midst of the pages, and this one doesn't have much of that, mostly because it is a compilation of the recipes of so many different chefs, and I can't find the voice in there.
It's just becoming clear to me that this is the kind of cook I am. I am a cook who loves cookbooks that talk to me, invite me in, tell me a story, and feed me a few things. I know that I don't have tat much company in this, but I think that I would cook purely from food essays if I had the time to read all day long.
A friend of mine never measures anything- she doesn't use recipes except for when she opens the Joy of Cooking for an outline of what she is trying to create. We're all looking for something different to fill that special shelf in the kitchen, and luckily there are enough cookbooks to satiate us all.
Of course, Gourmet is always good for a recipe, and I think that this was the best one that I found this week. I made it earlier in the week with those red-wine-and-maple-glazed carrots. Another sweet and lovely recipe, but I do not suggest putting them together. I'm sure if I had told you about the meal in advance, one of you would have warned me, "No! Too much glaze in one meal! And we all love shallots, but not so many in one dinner! Please!"
But of course I went ahead and did it without consulting anyone. I'm learning. But make them separately, and you will be very happy.
These pork chops have unbelievable flavor. Seriously. They are fast, and fancy, and delicious, which of course is the best combination.
Balsamic-Glazed Pork Chops
from Gourmet Today
4 center cut pork loin chops (about 2 pounds total)
salt and freshly ground pepper
2 tablespoons olive oil
8 small shallots, peeled, leaving root ends intact, and quartered
2/3 cup balsamic vinegar
1 1/2 teaspoons sugar
Rinse the pork chops and pat them dry. Sprinkle with 1/2 teaspoon salt and 1/4 teaspoon freshly ground pepper.
Heat oil in a 12-inch heavy skillet over moderately high heat until hot but not smoking. Cook pork, in 2 batches if necessary, with shallots, turning pork once and stirring shallots occasionally, until pork is browned and shallots are golden brown and tender, about 5 minutes. Transfer pork to a plate, leaving shallots in skillet.
Add vinegar (be careful, it will go wild for a moment), 1/2 teaspoon salt, sugar, and 1/4 teaspoon
pepper to skillet and cook, stirring, until sugar has dissolved and liquid has thickened slightly, about 1 minute. Reduce heat to moderate and return pork, along with any juices accumulated on plate, to skillet, turning 2 or 3 times to coat with sauce. Cook, turning once, until pork is just cooked through, about 3 minutes.
Transfer pork to a platter and boil sauce until thickened and syrupy, 1 to 2 minutes. Pour sauce over pork.