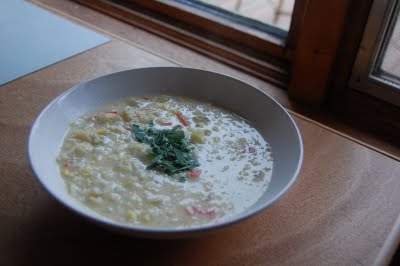 Lorna Sass has written many cookbooks, but she has one book called Whole Grains Every Day, Every Way. This is an amazing book, and for anyone interested in venturing beyond white rice and wonder bread, this is required reading. I know many people who are interested in cooking with different grains, but there are just too many unknowns. They pick up their granola from the bulk section at the store, sneaking a glance at the quinoa and bulgur with a little bit of interest and a little bit of guilt. Do you have to soak it? How do I cook it? And most importantly, does it taste good?
This book is an encyclopedia of the whole grain, a book that you can pick up to answer any of these questions. The entire first section separates each grain, defining the different forms that you might find it in, how to cook it, clean it and even store it.
And the recipes! One of my favorite things about this book is that it is directed at the average carnivorous American, and is filled with recipes like kamut with mussels in tomato broth, quinoa and turkey cutlets with fusion flavors, and millet-chocolate crunch. I've made many of her recipes, and I haven't had a loser yet. But my absolute favorite is amaranth, quinoa, and corn chowder.
Quinoa has nutty flavor, and is off-putting to many people, especially if it isn't prepared well. I find that there are specific combinations that really support quinoa, and corn and red pepper is one of them. Amaranth is a grain that not many people have tried, and when prepared on it's own is, well, very sticky. Both amaranth and quinoa are so packed with nutrition as to make you into a superhero, so they are well worth trying out.
Which brings me to this soup. For those who are wary of these new and crazy grains, this is perfect. Why? Honestly, because you just can't taste them. The soup has a grainy texture, and if you inspect the contents of your spoon, you'll find the little tadpole like grains, but this just tastes like really fabulous corn chowder. It comes together pretty quickly- just don't tell anyone what's in it.
Amaranth, Quinoa, and Corn Chowder
from Lorna Sass, Whole Grains Every Day, Every Way
serves 6
3 tablespoons unsalted butter
1 1/2 cups finely chopped leeks, whites and light green parts
1 cup finely diced celery
1/2 cup finely diced red bell pepper
1/4 teaspoon salt, plus more to taste
1/4 cup amaranth
1/2 cup ivory quinoa, thoroughly rinsed
1/4 teaspoon dried thyme
4 cups fresh or thawed frozen corn kernels
1 cup whole milk
2 tablespoons chopped flat leaf parsley
In a large, heavy pot, melt 2 tablespoons of the butter over medium-high heat. Stir in the leeks, celery and red pepper, and 1/4 teaspoon salt. Cook, stirring frequently, until the vegetables are soft, about 5 minutes.
Stir in the amaranth and three cups of water. Bring to a boil over high heat. Stir in the quinoa and thyme. Return to a boil. Reduce the heat slightly and cook at a gentle boil, partially covered, for 10 minutes.
Meanwhile, in a blender or food processor, puree 3 cups of the corn kernels with 1 cup of water. When the quinoa has cooked for 10 minutes, stir the corn puree and the remaining corn kernels into the soup. Add salt to taste. Reduce the heat and simmer until the quinoa and amaranth are tender, 3 to 5 more minutes. When the quinoa is done, there will be no starchy white dot in the center of each grain, and some of the little tails may unfurl. The amaranth will look like tiny white bubbles floating on the surface.
Stir in the milk and the remaining tablespoon of butter. Add more salt, if needed. Garnish each bowl with a little parsley.