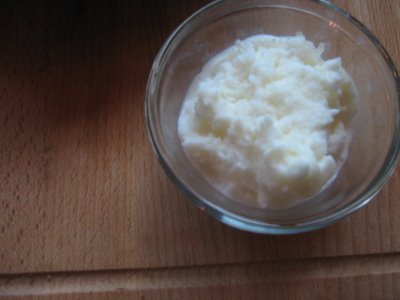 I made pies on Friday. There were friends coming, and I was in the mood to make pie. I made two pies. The first was a peach creme fraiche pie that smitten kitchen wrote about last week. This is a pie you should make.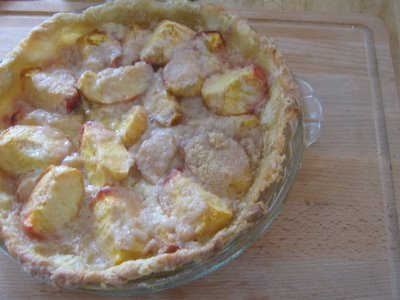 The second was blueberry rhubarb. The filling was so good, tangy and wonderful.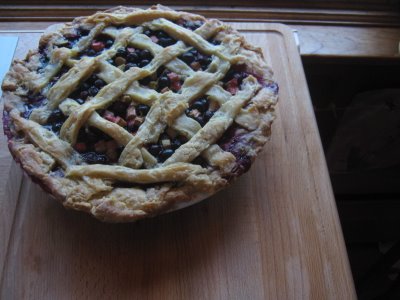 I've had some experiences with pie crust. To the dismay of my frozen pie crust loving mother, I made my first pie crust a few years ago. It was for a quiche, and it was perfect. A week later, cocky, I made a strawberry rhubarb double crusted pie. I've never eaten a cardboard box, but I think with a few strawberries tucked inside, it would taste better than that pie. I'm still feeling the need to apologize to my guests that night for that one. Thom and Meg, I think it was, and Meagan and Ben. I'm so sorry.
I've been through cuisinarts that have then gone and died on me, pastry cutters, knives and fingers that rub the fat in. And I have to say, about three quarters of the time, I make a pretty good pie crust.
Unfortunately, Friday was not one of those times. I have to admit, I was rushing. There was a lot going on. I had to get to a mid-day eleven year olds singing showtunes concert, and I was waiting for a work call from Spain. I was forcing the situation a bit.
I'm not sure what happened. I didn't overwork it- I didn't have the time. But that crust could break a tooth.
I'm so glad that I had gotten that personal email from Ruth Reichl earlier in the week. I don't know how it happened- I checked some box on the Gourmet website, and now I get these cute little personal emails from Ruth. I mean, I know I'm special, but what service! How she knows that I make my own Greek yogurt, I don't know! Perhaps she's reading this very blog, gaining inspiration for the next issue?
Anyway, thank god Ruth thought to send me this one. Because I must say, although it is not overwhelmingly yummy on its own, it is the most perfect accompaniment to blueberry pie I have maybe ever experienced. And my blueberry pie really needed a good accompaniment.
Tangy Frozen Greek Yogurt
from Gourmet, August 2009
(this is slightly adapted- the original version uses corn syrup, but I'll give you my version with honey)
makes about a quart
1 cup sugar
1/4 cup honey
1/4 cup water
1/8 tsp salt
2 cups plain whole-milk Greek-style yogurt
1 cup well shaken buttermilk
5 tsp fresh lemon juice
Warm sugar, honey, water and salt in a small saucepan over low heat, stirring until sugar is dissolved. Transfer to a large bowl and cool to room temperature, stirring occasionally.
Whisk in yogurt, buttermilk and lemon juice and chill until very cold, 3 to 6 hours. Freeze yogurt in an ice cream maker. Transfer to an airtight container and put in the freezer to firm up.
Keeps in the freezer for up to one week.