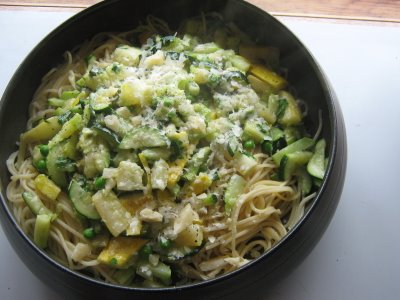 Tonight- a secret for you.
There are two things that will help anything taste really good. I'm really really serious about this.
High quality olive oil.
Good parmesan.
These things are magical.
I'm lucky, I know. There's this store near me, like two minutes away, run by a very nice French man. He has all sorts of things- cornichons, french mustard, foie gras. But most importantly, he has bulk olive oil in beautiful shiny containers, and one of them is organic, and it's so good- it's like fairy dust. Cheap too, if you bring your own container. On your way out, while you're trying not to buy nutella, you pick up some parmesan, and there you go. Now you make good food.
So when you go to the farmer's market, or you pick up your CSA share, or your garden is practically spitting things at you, what do you do?
You make pasta.
I have been asked how I know what to put together over pasta. I don't. It doesn't matter. Good olive oil, parmesan, you can chop up an old shoe and some paper towel and it will be delicious over pasta.
But in case you need a little direction, here's what we had the other night.
Mid- Summer pasta
1 lb spaghetti
3 summer squash, preferably different varieties (I used zucchini, crookneck, and pattypan), cut into thin semi-circles
the greens from 5 garlic scapes
1-2 cups (or as many as you can get) freshly shelled peas
1 cup parsley, roughly chopped
a large handful of basil leaves, roughly chopped
olive oil
parmesan
salt and pepper
Cook the pasta in a large pot of salted water. When it's done, drain and set aside. In a large sautee pan, put a few glugs of olive oil and warm over medium heat. Add the garlic scapes and sautee for a minute. Then add the summer squash and cook, stirring occasionally, until it's reduced in size and a bit golden, about ten minutes. Add the peas and cook for another minute. Then add the parsley and basil, cook for 30 seconds, and remove from heat. Put the pasta into a large bowl and lightly toss in olive oil. Add the vegetables on top. Then a bit more olive oil, a healthy amount of parmesan shavings, and salt and pepper.