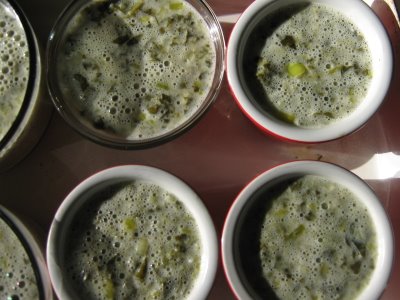 Spent. Totally spent. I came into the house tonight after a day at work that involved my hands moving really fast for many hours while my brain moved even faster, after waiting at the bus stop for a bus that I thought would never come, after giving nearly everything I made this week to the babysitter, and I stepped over all of the debris that has collected on the floor over the week. Holding my nose as I passed the pee-scented laundry, I added seven things to my to-do list, poured myself a really big drink, and ate a big hunk of local sheep camembert.
I made something with some things in the fridge, and we ended up with goat cheese polenta with veggies in pesto cream sauce. Luckily, Joey picked up some chocolate ice cream. Our nephew Zion is visiting from Colorado, and now we have three kids motivated to work their way through their dinner.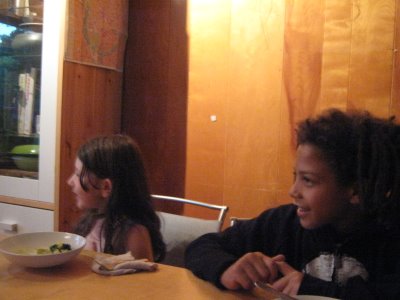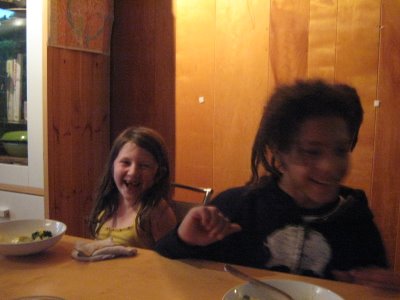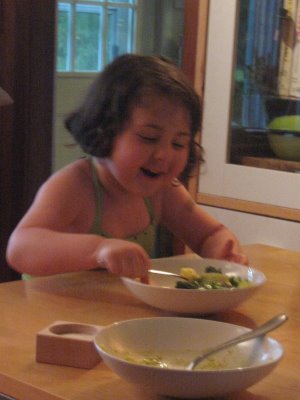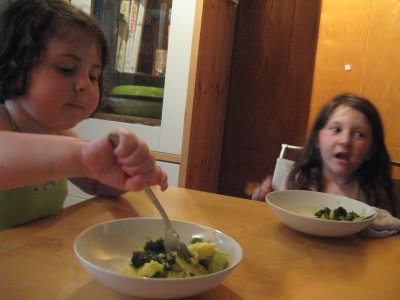 I'm feeling a little bit better.
But every day, I think about how I haven't given you this recipe. This is the only recipe that I haven't recorded of the courses from my dinner party, even though I think it might have been my favorite.
And leeks are slowly appearing at the market now, although if you don't have a sorrel plant of your own, you might have to search some out.
Leek and Sorrel Custards
from Deborah Madison, Local Flavors
makes 4 1/2 cup custards
4 to 6 thin leeks
2 1/2 T unsalted butter
4 oz. bunch sorrel
1 tsp sea salt
1 cup half and half or whole milk
3 eggs
freshly ground pepper
2 oz. fresh goat cheese
Preheat the oven to 350 degrees. Thinly slice, and the chop the leeks, using all of the white and about half of the green. You should have about 1 cup. Rinse them well. Melt the butter in a skillet. Use some of it to brush four ramekins, then add the leeks to the skillet. Add 1/4 cup water or white wine and cook gently over medium heat until softened, about 12 minutes.
Strip the sorrel leaves off the stems; wash and finely chop them. Add them to the pan with the leeks, sprinkle with salt, and cook until wilted, about 2 minutes. Add the half and half and heat until warm but not boiling.
Beat the eggs well, then stir in the sorrel mixture. Season with pepper and then crumble in the cheese. Puree the whole mixture in a blender or food processor. Don't overmix.
Divide among the ramekins; place in a baking pan and surround with hot water. Bake until custards are set and a knife inserted comes out clean, 30 to 35 minutes.
Serve warm or cool, and top with a drizzle of creme fraiche.