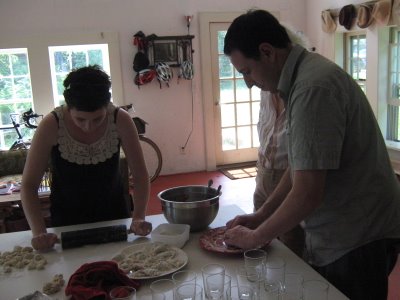 Well, I must say, I had my doubts, but it has been quite and entertaining weekend. Do you know those days that would be really fun if they were, like, four days, but your not quite sure how to cover all that ground in 16 hours? Of course, I left my Daring Cooks challenge to the last minute just to make sure that I would be making potstickers in a high stress situation. My friends Naomi and Ron were having an Asian themed potluck on Saturday (the day before posting), and how could I not make the potstickers then? Of course if I were Audax, I would have gone ahead and made them 40 times in the month prior to the party, but I am just not that good. (Check him out, by the way- he's amazing).
So, the party was at two on Saturday, and I thought, no problem, I make the potstickers in the morning, easy peasy, lots of time. Then of course, the farm goddess calls me to work the Saturday morning Farmer's Market, which is of course, my favorite thing to do in the world, and I'm not going to refuse just so I can listen to my kids fight all morning while I make potstickers. Of course, as luck would have it, this is a recipe that really has to be made just before you eat it. So, I do what any daring cook would do- I politely inform my host that I will be making potstickers at her party.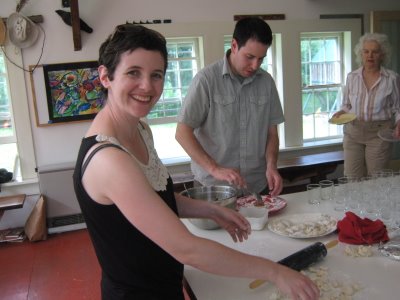 See how happy I am with myself? I got Joey in on it, and that's Naomi's mother-in-law there who couldn't resist being drawn into the potsticker hole.
I have to admit, I'd had quite a bit of champagne at this point. I was having a bit of a hard time getting over an experience that I had had earlier at the Farmer's Market. This was the first market that I've worked this season, and I was getting into my groove. Lots of math in my head, recipes for every vegetable at will- I was getting into it. And it was really busy. And then, I found myself face to face with a woman who I think that I can safely say is one of the most famous food writers in the world. It wasn't entirely a surprise- I know that she lives around here, and I knew I would run into her one of these days. And as I try to get closer to figuring out what I want to be when I grow up, I've thought of a lot of things that I should say. But in the moment, when she looked at me and asked, "What do you do with green garlic?", I had no words. Quietly, I stuttered, "sautee?" Jesus. I guess there's always next time. But why couldn't she have asked me about white turnips? I would have mesmerized her with my carmelized turnip suggestions, enchanted her with the thought of turnip soup that uses both the perfect juicy white turnips and their bitter, buttery greens? Sigh.
Okay, back to the potstickers- I just had to get that off my chest. I had made the filling the night before, only because it would have been entirely impossible to make it all happen the same day. So on Friday, I did a bit of chopping.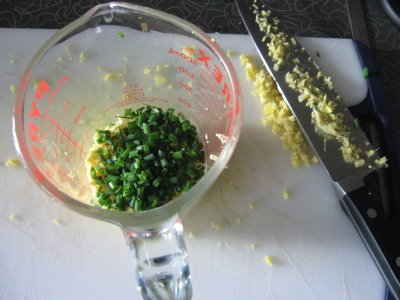 I was not so scientific about what went in there. I just put everything I could think of. And at the end of the market, I scored some free baby shitakes, and I threw those in too.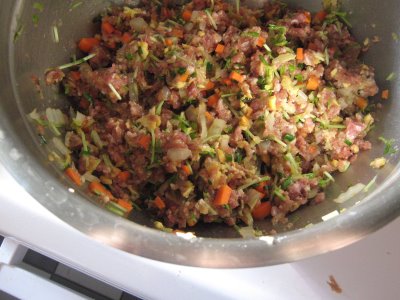 And on Saturday, in the fifteen minutes I had after the market, I threw the dough together. I was in a hurry, and I barely looked at the recipe, this was a bad idea. By the time I got to the party, I realized that my dough was too wet, and I wasn't really sure how I was supposed to shape it. And I was far from my recipe. I remembered that I needed to get the dough into little balls.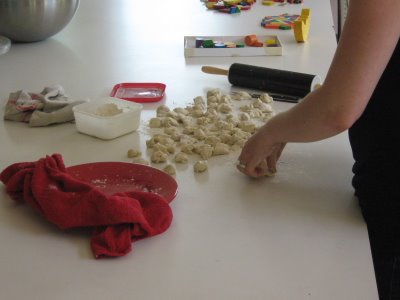 But everything was so sticky! And although I had been very attentive to the "pleating" directions, without them in front of me, I was clueless. That's when I brought Joey in.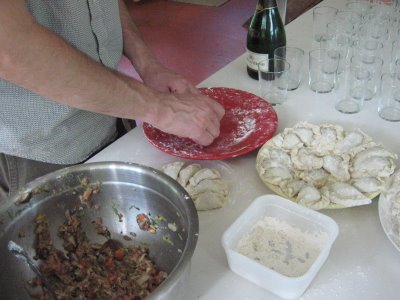 I am so lucky that he is artistically inclined. So I rolled, then handed him irregularly shaped circles, which he turned into little potsticker shaped things.
The challenge gave us the option to boil, fry or steam the potstickers, and, because I like to live dangerously, I boiled them. I was sure they would all explode. But they didn't!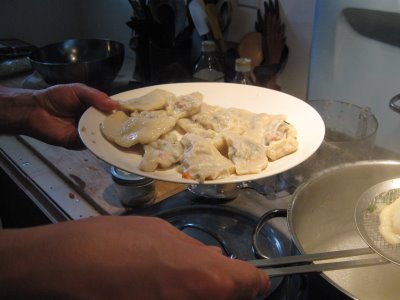 Ron and Naomi had prepared this whole incredible make your own soup spread. And the potstickers were actually really good floating in the soup. I was relieved to put them on the beautiful table and be done with the whole thing.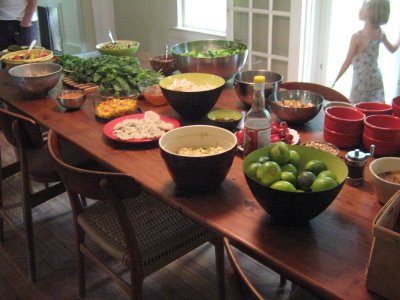 Thanks so much to Jen of Use Real Butter for making me do this. And go see everyone else's potstickers- I think they're prettier than mine.
Oh yeah, and p.s. just so you you get the full breadth of the weekend, I feel it necessary to show you what Joey did to the clover in the back yard.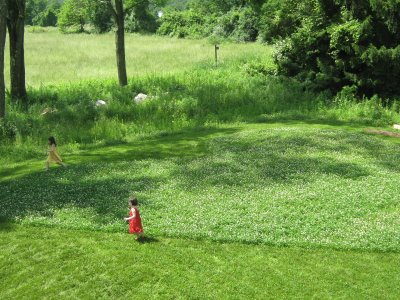 Yes, that is a heart.
Potstickers
For the filling:
1 lb ground pork sausage
1/2 cup minced fresh ginger
3 T toasted sesame oil
3 oz chopped pea shoots (yes I put them in everything. You've got a problem with it?)
1/8 cup chopped chives
1 carrot, small diced
2 cups shredded napa cabbage, lightly sauteed in olive oil
3 T soy sauce
1/2 T fish sauce
2 cups chopped baby shitakes, lightly sauteed in olive oil
Mix everything together in a bowl. Cover, and put in the fridge for an hour, or if you're having a crazy weekend like me, a day.
The dough:
4 cups (500g) all purpose flour
1 cup warm water
flour for work surface
In a large bowl mix flour with 1/2 cup of water and stir until water is absorbed. Continue adding water one teaspoon at a time and mixing thoroughly until dough pulls away from sides of bowl. I kept thinking my dough was too dry and I added too much water. Don't do this!
Knead the dough about twenty strokes then cover with a damp towel for 15 minutes. Take the dough and form a flattened dome. Cut into strips about 1 1/2 to 2 inches wide. Shape the strips into rounded long cylinders. On a floured surface, cut the strips into 3/4 inch pieces. Press palm down on each piece to form a flat circle (you can shape the corners in with your fingers). With a rolling pin, roll out a circular wrapper from each flat disc. Take care not to roll out too thin or the dumplings will break during cooking – about 1/16th inch. Leave the centers slightly thicker than the edges. Place a tablespoon of filling in the center of each wrapper and fold the dough in half, pleating the edges along one side. Keep all unused dough under damp cloth.
To boil, fill a large pot with water and boil dumplings until they float.
And of course, I entirely forgot to make dipping sauce. Good thing there were lots of dipping sauces at the party. But here's Jen's recipe for that, if you're not lucky enough to be going to an Asian potluck.
dipping sauce:
2 parts soy sauce
1 part vinegar (red wine or black)
a few drops of sesame oil
chili garlic paste (optional)
minced ginger (optional)
minced garlic (optional)
minced green onion (optional)
sugar (optional)
I had a fair amount of filling left over, but the recipe made about 4 dozen potstickers.
Until the next challenge then….