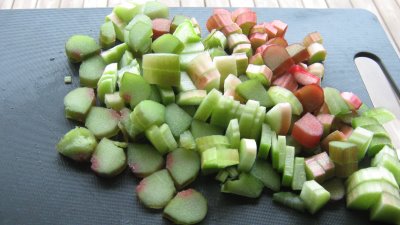 I've been thinking about a rhubarb tart for days, sort of obsessively, like Rapunzel's Mom. And I've had this thought of this perfect little custardy French thing, and it seems pretty classic, like something I would find in any book, but it was NOWHERE TO BE FOUND. And I got crazier and crazier, and then of course, I bonked my head, which made me even crazier, and then I went out there and pulled the rhubarb today. This is something new that I just learned- rhubarb should be pulled, not cut, or else the plant rots out. It's very satisfying to do this, you have to get a good hold and pull, and usually you pull with such force that you end up on your bum. So I pulled the rhubarb and then I made this tart, ignoring the many many little girls in the house and muttering to myself as I worked. Maybe it's the poisonous leaves, but it's looking like rhubarb brings out the crazy in me.
So, not for lack of trying, turns out I had to make this one up. It was just that I couldn't quite find that thing that I knew I wanted. But here it is, and it was just what what I was imagining, dreaming of, and obsessing about. The crust is this phenomenal recipe that David Lebovitz just posted, alluring and enchanting in its unusual method of creation, which involves no cold butter. I find this to be very exciting. The tart is not too sweet, and whips up pretty quickly. I hope that you gain as much satisfaction from it as I have.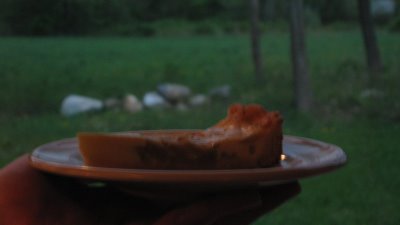 Rhubarb Custard Tart
The Crust
from David Lebovitz, who adapted it from a recipe by Paule Caillat of Promenades Gourmandes
3 ounces unsalted butter, cut into pieces
1 tablespoon canola oil
3 tablespoons water
1 tablespoon sugar
1/8 teaspoon salt
5 ounces (slightly rounded cup) flour
The Filling
13 ounces rhubarb, chopped into bite sized pieces
4 T sugar
1 ounce butter
a good squeeze of a lemon
The Custard
3 large eggs
3/4 cup whole milk yogurt
1 T vanilla extract
1/4 cup sugar
1/4 tsp salt
Preheat the oven to 410 degrees.
In a medium-sized ovenproof bowl, combine the butter, oil, water, sugar, and salt. Place the bowl in the oven for 15 minutes, until the butter is bubbling and starts to brown just around the edges. When done, remove the bowl from oven (and be careful, since the bowl will be hot and the mixture might sputter a bit), dump in the flour and stir it in quickly, until it comes together and forms a ball which pulls away from the sides of the bowl. Transfer the dough to a 9-inch tart mold with a removable bottom and spread it a bit with a spatula. Once the dough is cool enough to handle, pat it into the shell with the heel of your and, and use your fingers to press it up the sides of the tart mold. Reserve a small piece of dough, about the size of a raspberry, for patching any cracks. Prick the dough all over with the tines of a fork about ten times, then bake the tart shell in the oven for 15 minutes, or until the dough is golden brown. Remove from the oven and if there are any sizable cracks, use the bits of reserved dough to fill in and patch them. Let the shell cool before filling.
Reduce the heat to 375 degrees.
Melt the butter in a medium skillet. Add the rhubarb, sugar and lemon. Cook, stirring occasionally, for about five minutes, or until the rhubarb is tender. Pour mixture into prepared tart shell.
Put the eggs, yogurt, sugar, vanilla, and salt into the blender and blend until you have a smooth custard. Pour over the rhubarb in the tart shell.
Bake for 45 minutes, or until the tart is set and the top is starting to turn golden. Let cool and refrigerate for at least three hours before serving.