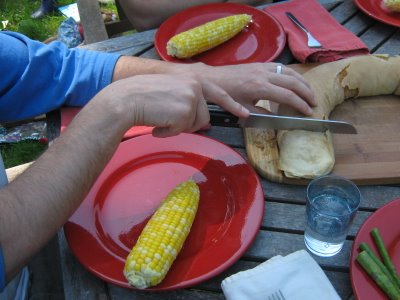 Well, I've done it. I've completed a daring baker challenge with absolutely no drama. Will you still love me anyway? Because this is a different sort of story. It has a happy ending, not to mention beginning and middle. Here we go…
The May Daring Bakers' challenge was hosted by Linda of make life sweeter! and Courtney of Coco Cooks. They chose Apple Strudel from the recipe book Kaffeehaus: Exquisite Desserts from the Classic Cafés of Vienna, Budapest and Prague by Rick Rodgers.
Now when this challenge was announced, I was unthrilled. I've never made strudel, but I've also never really wanted to. And apple strudel especially wasn't doing much for my excitement level. It seemed hard, and stressful, and not really like something I wanted to eat so much.
So I put it out of my head for a while, and then when my friend Quinby said that she and her family were going to come for a visit on Memorial Day, I figured that that would be strudel day.
Then I got wind of the fact that some daring bakers were going for savory, and then it came to me: Caramelized Onion, Goat Cheese, and Spinach strudel.
I was so excited- I couldn't wait. It all changed. But I was nervous about the dough. I warned Joey too many times- "I'm going to need your support on this strudel," with weepy tears ready to come. And he was ready.
But it was easy! And not only easy, but incredibly enjoyable. From now on- I'm a strudel maker. I'm already thinking about the next time I get to play with that fabulous dough. I think it could become a little addictive. It's a daring baker success!
You want to see how to do it? This is what you need:
For the dough:
1 1/3 cups (200 g) unbleached flour
1/8 teaspoon salt (I used canola)
7 tablespoons (105 ml) water, plus more if needed
2 tablespoons (30 ml) vegetable oil, plus additional for coating the dough
1/2 teaspoon cider vinegar (I used red wine vinegar)
To coat the dough:
1 1/2 cups fresh bread crumbs
6 T melted butter, divided in half
For the filling:
About 6 medium onions, caramelized (Here's how you do that)
6 oz. goat cheese (I used olive oil and thyme Monterey chevre, and it was fabulous)
1/2 lb fresh baby spinach
sea salt
1. Combine the flour and salt in a stand-mixer fitted with the paddle attachment. Mix the water, oil and vinegar in a measuring cup. Add the water/oil mixture to the flour with the mixer on low speed. You will get a soft dough. Make sure it is not too dry, add a little more water if necessary.
Take the dough out of the mixer. Change to the dough hook. Put the dough ball back in the mixer. Let the dough knead on medium until you get a soft dough ball with a somewhat rough surface.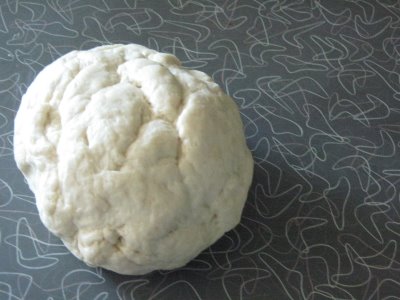 2. Take the dough out of the mixer and continue kneading by hand on an unfloured work surface. Knead for about 2 minutes. Pick up the dough and throw it down hard onto your working surface occasionally.
(Note: This dough is amazing. I had to stop myself from over kneading because it has the most incredible texture- super smooth and not sticky and workable.)
Shape the dough into a ball and transfer it to a plate. Oil the top of the dough ball lightly. Cover the ball tightly with plastic wrap. Allow to stand for 30-90 minutes (longer is better).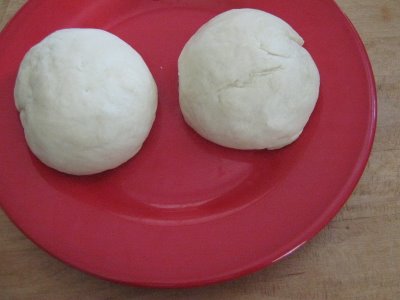 (I doubled the dough recipe because I was convinced that I would mess up the stretching part the first time)
While you're waiting for the dough to rest, you can work on the onions.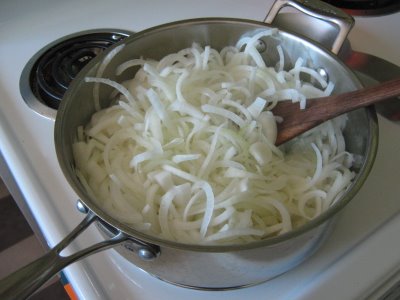 Also at this time, prepare the crumbs and butter. Melt 3 T of butter in a saucepan and add the breadcrumbs. Stir, toasting them, for about 3 minutes. Take off the heat and set aside. They should cool completely before they are put on the dough.
Melt the other 3 T butter in a separate pan and set aside. And you might as well preheat the oven to 400 at this point.
Now for the rolling:
3. It would be best if you have a work area that you can walk around on all sides like a 36 inch (90 cm) round table or a work surface of 23 x 38 inches (60 x 100 cm). Cover your working area with table cloth, dust it with flour and rub it into the fabric.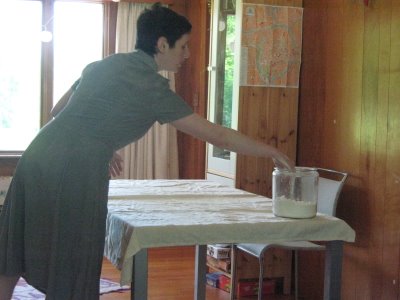 Put your dough ball in the middle and roll it out as much as you can.
Pick the dough up by holding it by an edge. This way the weight of the dough and gravity can help stretching it as it hangs. Using the back of your hands to gently stretch and pull the dough. You can use your forearms to support it.
Have fun with this. The dough will stretch, and it's ok if there are a few little holes.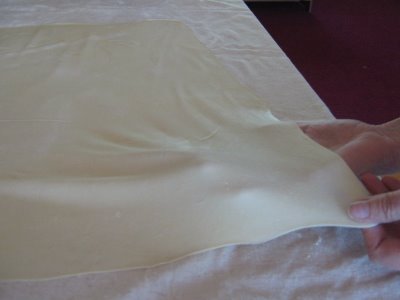 4. The dough will become too large to hold. Put it on your work surface. Leave the thicker edge of the dough to hang over the edge of the table. Place your hands underneath the dough and stretch and pull the dough thinner using the backs of your hands. Stretch and pull the dough until it's about 2 feet (60 cm) wide and 3 feet (90 cm) long, it will be tissue-thin by this time.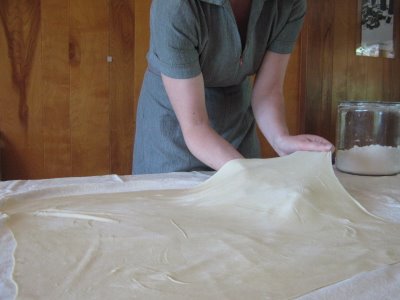 Cut away the thick dough around the edges with scissors. The dough is now ready to be filled.
First, pour the cooled, melted butter over the dough and rub it in very gently with your hands.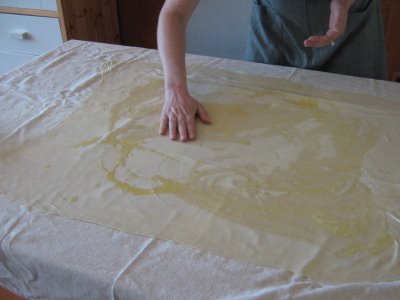 Then evenly spread the cooled toasted breadcrumbs over the dough.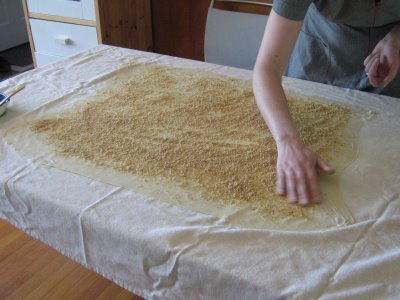 Why the breadcrumbs? When you roll your strudel, it's going to have four or five layers to it. The breadcrumbs keep the layers separated. Brilliant, isn't it?
Now go to the short end of the dough. About 2-4 inches up, apply the goat cheese in a 4 inch band. Then add the onions on top.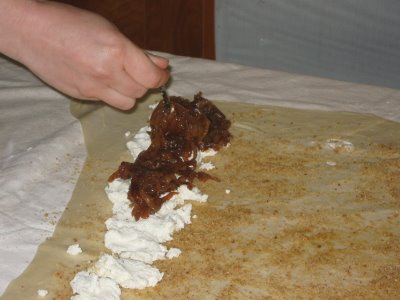 Then the spinach and sea salt.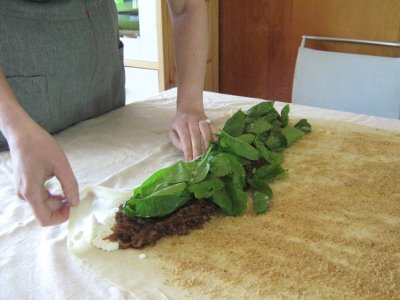 OK, this part is scary for a second, But it will be alright- I promise. Gently lift the edge of the dough around the filling and turn it over once, giving it a bit of support with your hands.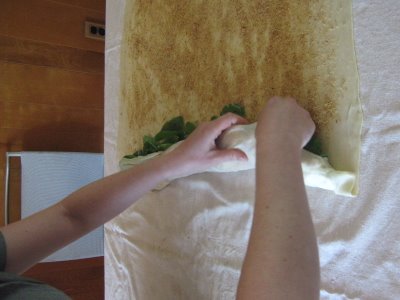 Whew, you made it. Now is the really fun part. Gently pick up the tablecloth, and the thing is going to roll itself. No really, it will. Maria helped me out with this one.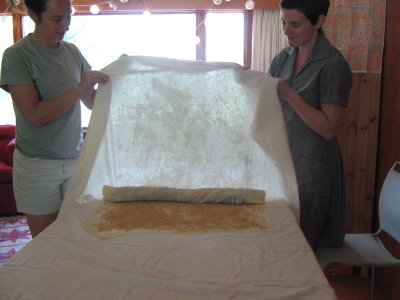 Isn't that incredible?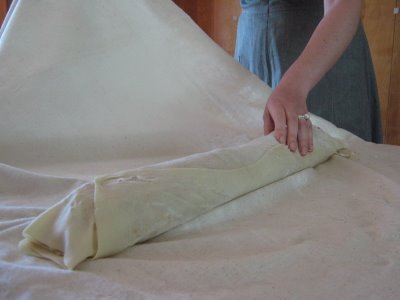 I have to admit, this rolling process created the absolute natural high. You've got to try it.
When you get your bearings, put it onto a parchment lined baking sheet.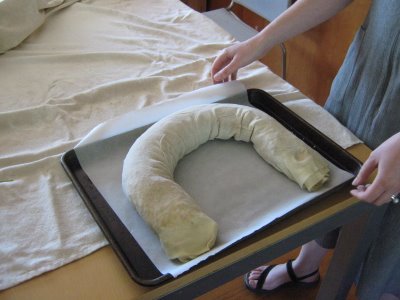 Then, bake it in the top two thirds of the oven for thirty minutes. While it's baking, get the kids to shuck some corn.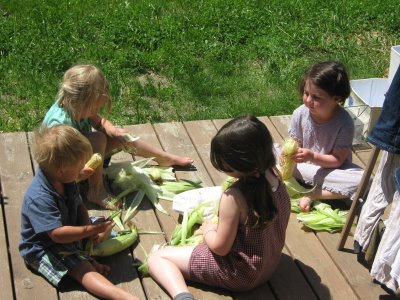 Maybe take some gratuitous cute pictures of them.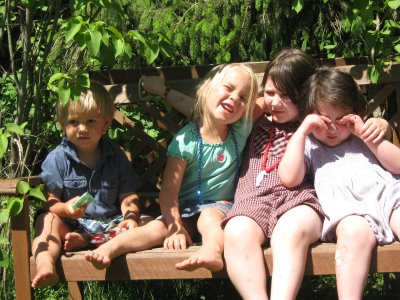 When the strudel comes out, it will be a nice tan color.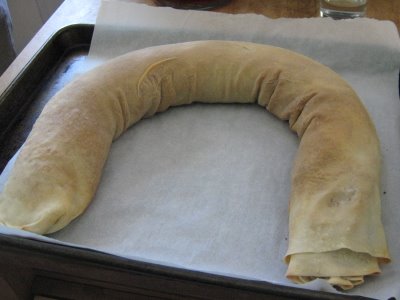 Kind of looks alive doesn't it? Don't be frightened- perfectly harmless.
Let it cool for at least 30 minutes. Then dig in.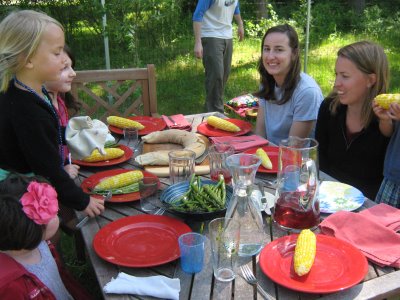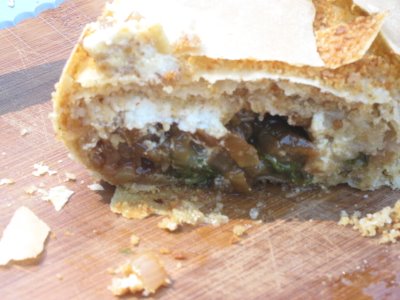 Oh, your going to feel so good about yourself, you strudel maker. Leave the dishes on the table and head out for a nice walk.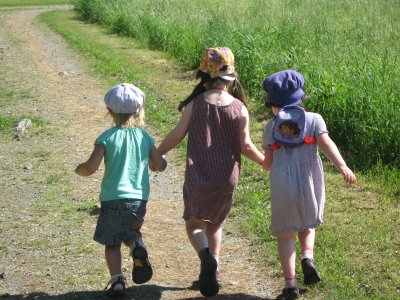 Thanks so much to Linda and Courtney for what has turned out to be my favorite challenge so far. Go and see all the amazing strudel creations here!