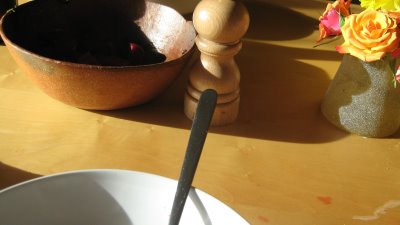 As I've mentioned, inspiration's been lacking a little bit lately in my kitchen. I spend some time here and there hunched over cookbooks, or better yet, hunched over a blank piece of paper trying to plan out the week a bit. I sit there, muttering to myself about nothing in particular, and I'll think of something, and I'll whisper "chicken soup with dumplings," and Rosie will drift by in her tutu, and will say, "No Mom, I only like squash soup". And I'll curse quietly, and then I'll say, "swiss chard pie!" and Sadie will yell from across the house, "I won't eat it. I hate feta!" and well, you get the idea. And then I just say screw it, you girls won't starve- I'm just making what I want. Sound familiar? Anyway, here's a nice little dinner for you.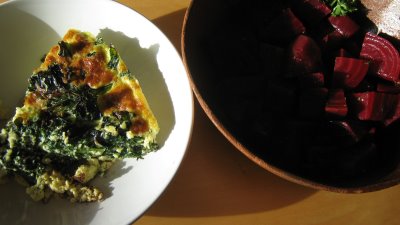 Green Frittata with Beet Salad
For the Frittata:
(serves six)
1 large bunch kale, washed, stemmed, and roughly chopped
9 eggs
5 ounces cream cheese
1 3/4 cups milk
4 T olive oil
1 1/2 T white flour
3/4 tsp salt
1/2 cup grated parmesan
Freshly ground pepper
Put eggs, cream cheese, milk, flour and salt in the blender. Blend until smooth.
Heat 3 T of the olive oil in a heavy oven proof skillet. Add the kale and a splash of water. Cover and cook until wilty, about two minutes. When cooked, use the other 1 T of olive oil to coat the sides of the pan. Pour the egg mixture over the kale. Cook on low to medium heat without stirring until the egg starts to firm up around the edges.
Sprinkle the parmesan on top.
Set a rack in the center of the oven and set your broiler to low. Cook the frittata in the oven under the broiler for about five minutes, watching carefully. It will puff up, turn golden, and be firm to the touch. This may take a while, depending on your broiler, so really keep an eye on it. When it looks ready, stick a butter knife in it, to make sure that there is no runny egg. Season with freshly ground pepper and cut into wedges after it has cooled a bit.
For the Beets:
1 large bunch of beets
About 2 T olive oil
1 T mustard
1 tsp sherry vinegar
a handful of parsley, chopped fine
salt
pepper
Peel the beets and chop into bite sized chunks. Steam them for 20-25 minutes, or until tender. Let cool to room temp.
Combine olive oil, mustard, sherry vinegar, salt and pepper. Whisk together, adjusting to your own tastes. Toss dressing with beets and parsley.