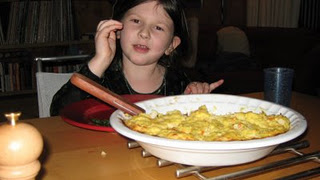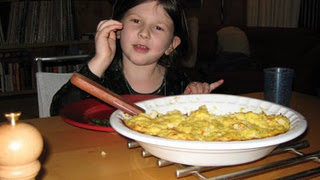 Now, I don't tend to be too uptight about this stuff, but lately I've been worrying a bit that my kids might just be eating things made of white flour for every single meal plus snacks. It hasn't always been this way, but I think that sometimes these things sneak up on you a little, you know what I mean? Joey puts up with it when I bring out the quinoa, but only a little bit, and Rose doesn't enjoy anything that's not called "bread", but when Sadie said, "Mom, I like millet, remember?" I jumped on it faster than she could change her mind.
So then the world takes over, ready to take on the burden of easing my anxiety over the fact that my kids are going to get rickets, and my Mother Earth News arrives with a feature called "Tap the Culinary Wisdom of our Ancestors: DISCOVER MILLET."
Yes! I would like to discover millet! Although I'm not sure if my super British Episcopalian or my very short Austro-hungarian Jewish ancestors were so into millet. Oh, well. I'll tap into the culinary wisdom of someone's ancestors, anyway.
So in excited desperation, I flipped through the article, was reminded that millet has lots of protein, lots of other good stuff, and is way more digestible than wheat or rice or corn. And as by this time I was looking for any possibility to get this wondergrain down my kids' gullets, I found the perfect recipe, millet coated with lots and lots of cheese!
And the result? Sadie, my wonderful, adventurous Sadie, who of course already established that she was a millet fan, ate two pieces. Rosie was a no go, but was hungry so ate only kale for dinner, which eased my anxieties anyway. And Joey? He happily ate half the pie for dinner, but then emphatically refused bringing it for lunch. All in all? A success-ish, I'd say.
Millet Pie (adapted from Mother Earth News, December/January 2009)
2 cups onion, chopped
1 T olive oil
1 cup millet
3 cups water
1/2 T salt
1 tsp dried thyme
1 medium carrot, chopped
3 cups cauliflower or broccoli florets, cut into small pieces
6 ounces cheddar or Jack cheese
2 large eggs, beaten
Heat a 2-quart heavy saucepan over medium heat for a few seconds, add the oil, then the onions. Saute until they soften and sweeten. Add the millet and stir, cooking until the grains are hot to the touch and fragrant. Add the water, salt, thyme and carrot and bring to a boil. Cover tightly and bring heat to lowest setting. Cook for thirty minutes, then add broccoli or cauliflower, cover again and let stand for 5 minutes. Uncover and fluff.
Preheat the oven to 400. Stir in the cheese and egg, and transfer the mixture to a large greased pie pan. Bake for 45 minutes. Serve warm or cold.