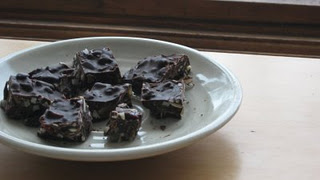 Are you feeling gift stress? I suggest that you channel this into baking and sweet making. The sweets will be fabulous gifts, and eating them will ease your stress as well. The whole thing is pretty cost effective and you can be sure that your gifts won't go unused.
We're on our second snowstorm in 3 days. The kids are going crazy, my husband is compulsively crafting, and I'm popping out sweets faster than I can pack them. So this will be the first of a few recipes I'll pass along. Get ready.
These are Chocolate Blocks. The originally recipe for these babies come to me through Orangette, who in turn had gotten it from Gourmet Magazine. You can find the original recipe here, but my version changed the insides a bit.
Some of you reading this will be receiving these from me over the next week. Forgive me for ruining the surprise, but trust me- you'll want the recipe as soon as you eat one.
Oh, and this one wins the super easy award. Have fun with it….
1 1/4 lb of good quality chocolate, bittersweet
2/3 cup candied ginger, cut into little pieces
2/3 cup dried cranberries
1 1/3 cup almonds, chopped small
good quality sea salt
vegetable oil, for greasing
Line a 9×9 baking pan with foil and grease it lightly with vegetable oil.
In a double boiler or metal bowl over a pot with a few inches of water, melt the chocolate at a medium temperature. The water should just be simmering. Stir until the chocolate is smooth. Stir in the fruit and nuts.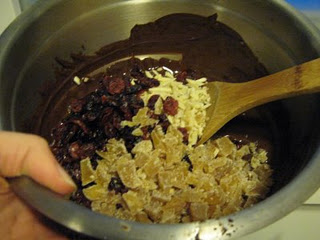 Pour the chocolate mixture into the prepared pan. Smooth with a spatula and sprinkle the whole thing with sea salt.
Cover lightly and put it in the fridge for at least 4 hours.
Pop it out of the pan and cut into squares.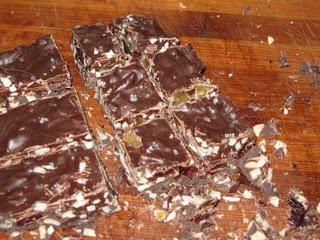 These can be stored in the fridge for two weeks, layered with wax paper between them. This recipe makes about 60 blocks.